Food
Antonio Carluccio's risotto with saffron and sausage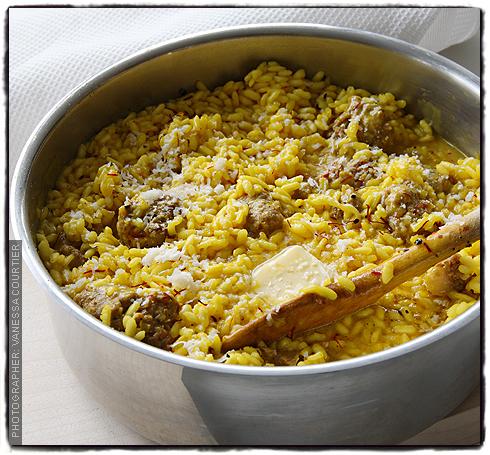 Serves: 5
Brrr, it's suddenly turned really chilly, hasn't it? Don't go out – stay in and rustle up this tasty winter warmer from the master of Italian cookery, Antonio Carluccio instead.
What cold-weather comfort food do you love? Tell us in the comments box below.
Ingredients
2.5 litres chicken or vegetable stock
300g good-quality pork sausages
a good pinch of saffron threads
1 large onion, finely chopped
100g unsalted butter
100ml dry white wine
500g risotto rice
60g freshly grated parmesan
Method
In a pan, bring the stock to the boil, then turn it down to a simmer.
Meanwhile, remove the sausage skins and break the meat into pieces.
Toast the saffron strands in a dry pan for a few seconds, being careful not to burn them.
In a large shallow pan, fry the onion in half the butter, then add the sausage meat and cook for about 10 minutes, stirring frequently. Add the wine and cook for a couple of minutes before tipping in the rice.
When the rice is coated with butter and is starting to stick to the bottom of the pan, begin adding the hot stock in ladlefuls.
Start stirring and, as soon as the first lot of liquid is absorbed, add a little more.
After about 10 minutes, add the saffron threads and some salt and pepper.
Continue adding the stock and, after 18-20 minutes of stirring and adding stock, taste a grain of rice to check if it's al dente.
When the rice is ready, stir in the remaining butter and half the parmesan. Serve with the rest of the cheese on top.
About the author