Food
All about that bouillabaisse
It's Marseille's 'must-try' dish, but travel to the French port city and you could find locating a bowl of the spicy broth a surprisingly tall order...
As a visitor to Paris, you seek out macarons; in Toulouse, it's sausages and cassoulet; and in the bustling port city of Marseille? Well, it's the birthplace of bouillabaisse – and it'd feel wrong to leave without trying some. But, as I found when I recently visited (using the new direct Eurostar train from London St Pancras), getting a 'proper' bowl of the rich, spicy stew often proves a darn sight harder than popping into Ladurée for a box of macarons. Why? Well, for a start, rockfish – one of the key components of this Provençal classic – has been overfished in the Med, causing its price to skyrocket. And, thanks to the dish's long and muddled history, local chefs often disagree on what recipe they should even follow.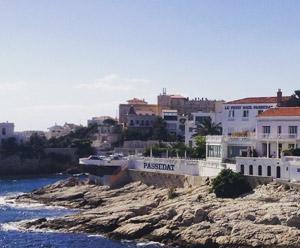 Le Petit Nice clinging to Marseille's rocky coast
The upshot of this is that a bowl of what is arguably the best (and certainly the swankiest) bouillabaisse in Marseille can be found at Le Petit Nice, Gérald Passedat's glamorous three-Michelin star restaurant that clings to the rocky coast at Corniche John F. Kennedy. The 'bouille abaisse' (Gérald insists on two words) menu here will set you back an eye-watering €180 (around £130), though it's an undeniably stylish deconstructed take on the dish, with three lots of fish (rather than the customary two) creating a fantastic depth of flavour in the thick rockfish soup. 'Each fish plays its own notes, and harmonises with the others in the bouillon, which takes them back to the sea,' he explains. To add to the luxuriant experience, your meal can be enjoyed on the restaurant's sunny terrace, looking out across the Mediterranean toward Marseille's famous Frioul islands (the setting for The Count Of Monte Cristo).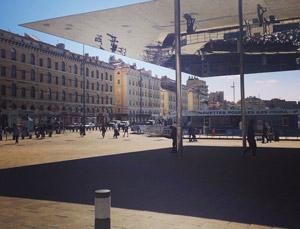 Architect Norman Foster's pavilion in Vieux-Port
For a slightly less 'cheffy' bouillabaisse at the marginally more affordable end of the market, Miramar, located at the water's edge in Vieux-Port, is worth a visit. With chef Christian Buffa at the helm, his version is touted as 'real' bouillabaisse and it'll set you back €63 (around £45). It's a great option in a touristy area that has a daunting mix of foodie finds and tourist traps. While there, I unfortunately found myself at the latter, working my way through a teetering platter of sub-par fish and seafood and staining my hands bright yellow in the 'saffron' soup (I suspect the saffron had been substituted for less expensive turmeric) – no chance of a finger bowl at this rough-and-ready establishment. 'The fish had a reptilian texture and the soup was reminiscent of chip-shop curry sauce,' laments my travelling companion and fellow diner. So it's crucial you do some research before you go, if Le Petit Nice and Miramar are a little spendy for your budget. Bon appétit!
About the author