Food
Abergavenny Food Festival: our review
As the magazine's managing food editor, Tamsin Burnett-Hall spends most of her week developing, testing and editing recipes, would a trip to one of the UK's best-known food festivals be a busman's holiday, or would it give her even more ideas and inspiration?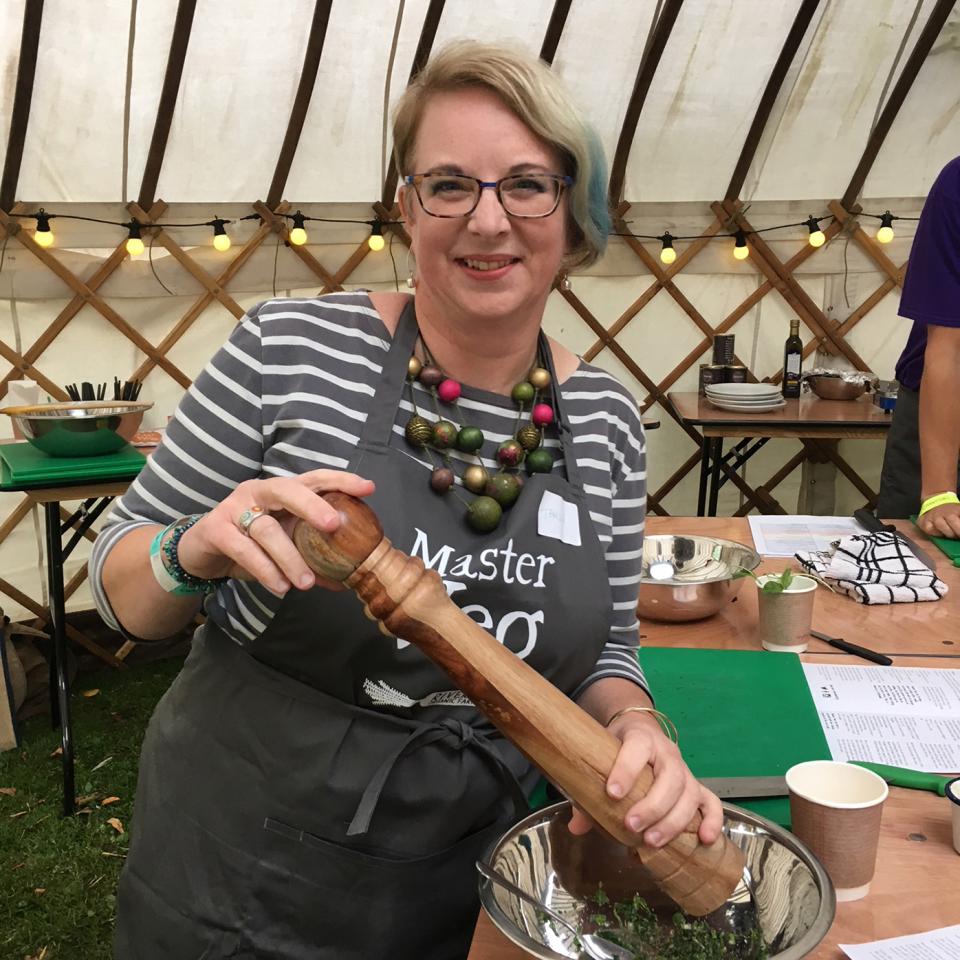 'As I change trains at Newport, the dual-language signs confirm I've crossed the Welsh border and will soon be arriving at my weekend destination. The Abergavenny Food Festival was established in 1999 by local farmers in response to the BSE crisis and the resulting lack of consumer confidence in British produce. It's grown to become a key date in the calendar, as much for the chefs, food writers and broadcasters such as Tom Kerridge, Romy Gill and Rachel McCormack who take part, as for regular attendees and locals. This year will be the 20th Abergavenny festival yet it retains a wonderfully intimate feel, with events small enough to be personal and informal, making it very appealing – even for someone like me who eats, breathes and sleeps food and cooking.
The organisers' aim is to transform the way people think about food and where it comes from. There's a packed programme of thought-provoking and inspiring debates and discussions with big names such as Hugh Fearnley-Whittingstall and Jay Rayner, dozens of cookery demos and fabulous evening pop-up feasts by the likes of Olia Hercules, plus informative talks by food and drink experts.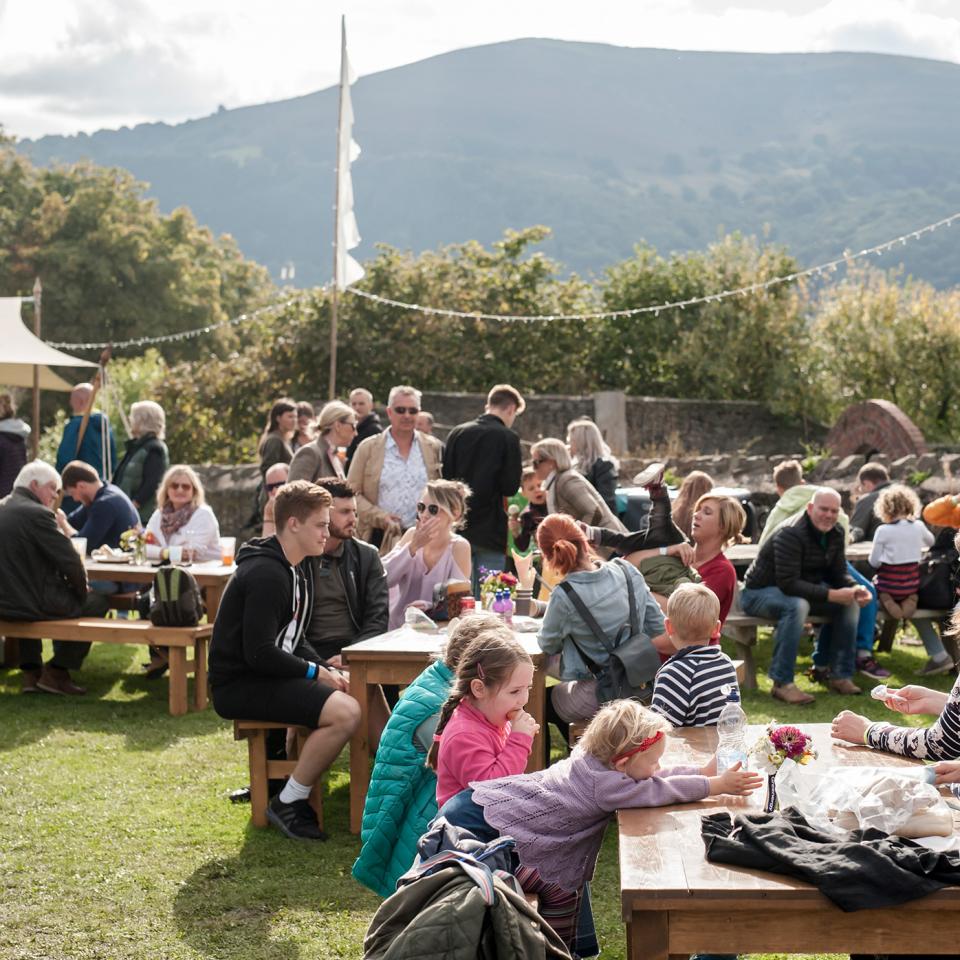 Festival visitors tuck in on the castle lawns
Tastings and treats
While lots of the food trucks and producers' stalls on the town's streets are open to all, if you've bought a festival wristband you can 'access all areas', getting the full benefit of the free events and carrying on sampling across both days. This is good for the taste buds, if not the waistline.
The town's Market Hall is a great place to start, wandering around tasting and shopping, stopping to see a chef demo or hear a debate. I succumb to buying some of the delicious products; the stunning packaging of the Womersley fruit vinegars stall draws me in, then the extraordinary flavours keep me tasting and chatting for ages. Eventually I narrow it down to a mere five flavours to take home. While I'm already a fan of ingredients specialist Belazu's rose harissa paste and zhoug, seeing the full product range on show gives me the chance to find a new favourite: fragrant verbena harissa. New to me is oak smoked water by Halen Môn, a fantastic essence you can add to cocktails, casseroles, marinades and sauces for a smoky note. Next I treat myself to a bottle of Welsh-made Limbeck New Western Style Eccentric Gin, infused with citrus, tarragon and galangal, tinted a peach hue from its resting time in recycled burgundy oak casks. Fortunately there's a very useful shop-and-drop point, so I don't have to lug my shopping around with me all day.
Feeling peckish, I munch on Mandy's potted crab and crackers from the Fish & Fizz market while perusing the wonders on offer in the new producers area – so much to try. I spend the afternoon in the Riverford Organics yurt enjoying a hands-on kitchen masterclass using super-fresh seasonal veg. We conjure up a sumptuous plant-based late lunch including sweetcorn and gram (chickpea) flour fritters, quick pickled cucumbers and a shaved courgette salad with edible flowers, washed down with local apple juice.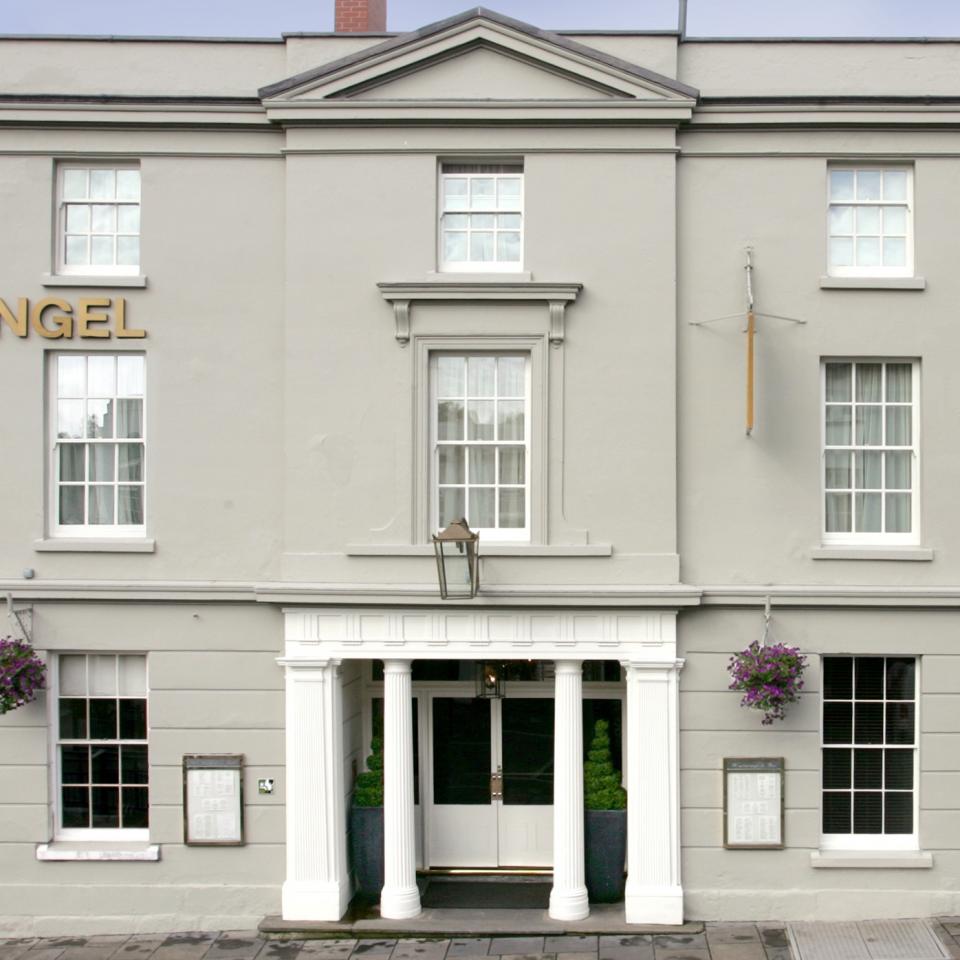 The 'elegant' Angel Hotel
Chefs on show
As I head back to The Angel Hotel to change for the evening, the heavens open – and the torrential rain doesn't stop all night. However, the locals are a hardy lot and it doesn't stop them (or me) from dancing the night away at the festival's Party At The Castle, culminating in a fireworks display over Abergavenny Castle ruins, even as the ground turns into a quagmire.
In the pouring rain it is a real treat to be served a divine masala dosa (a crisp lentil-based pancake stuffed with spiced potatoes) by the ever-smiling legendary chef, Cyrus Todiwala, at his pop-up food stall, staffed mostly by family members.
On Sunday, after a superb night's sleep in a marvellously comfy bed and a divine breakfast of roasted mushrooms, tomatoes and spinach on sourdough toast, I attend a couple of workshop demos. The first is with cookery school supremo Angela Gray, a keen promoter of local produce (her slow-cooked Welsh lamb stuffed with local sheep's milk cheese is melt in the mouth), followed by a dumpling masterclass with the charming Olia Hercules.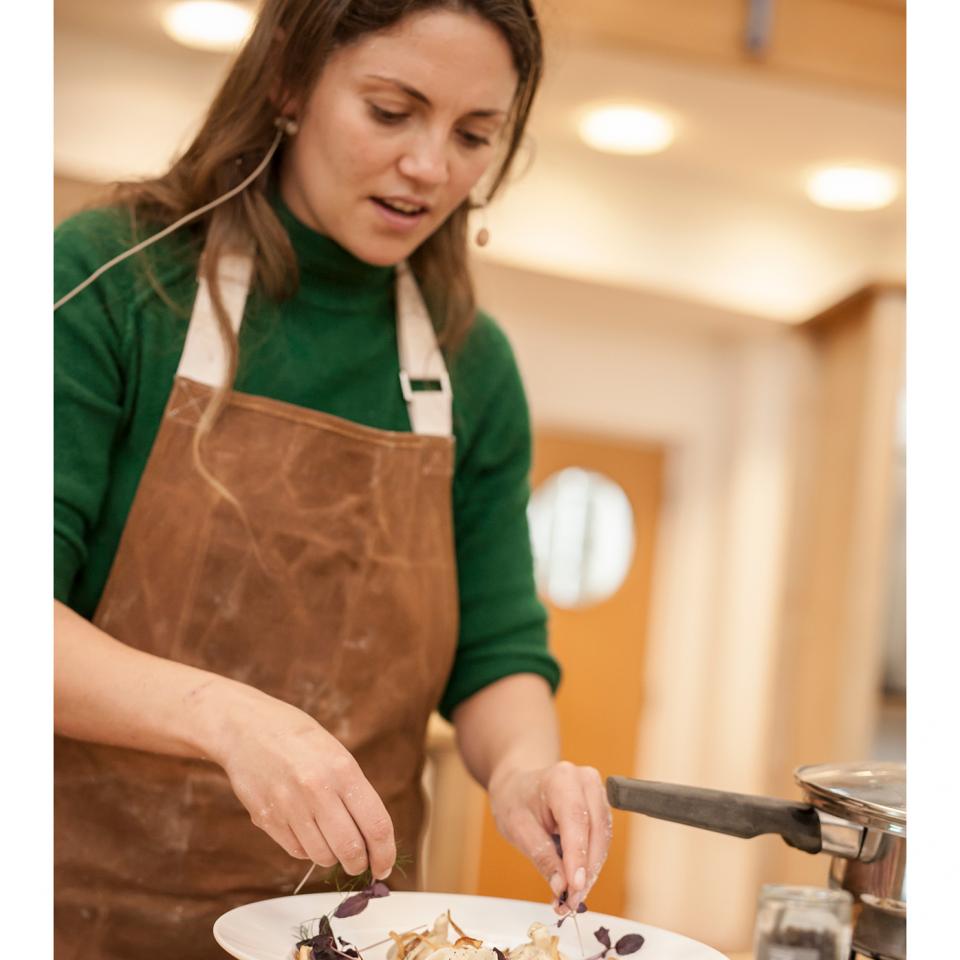 Olia Hercules gives a dumpling demonstration
All in all, I find the food festival truly inspiring, and resolve to eat more local, sustainable produce. I leave Abergavenny reluctantly but with all appetites thoroughly satisfied – and my bags weighed down with my delicious haul of goodies.'
Abergavenny Food Festival 2018 is on 15-16 September. A one-day wristband is from £7; weekend pass £14 (children free). Book ahead for talks, demos, classes and feasts (individually priced).
Where I stayed
'In the heart of the action, you need only walk out of the front door of this former coaching inn to experience all the festival has to offer, and my elegant suite had a bay window overlooking the town. The oak-panelled Foxhunter Bar is a cosy spot for a pick-me-up, while breakfast offers cooked and continental options with artisan breads and pastries from Angel Bakery. An executive (standard) double room with bed and breakfast ranges from £109 to £159.'
About the author