Food
3 of my favourite BYOBs in London
by Sarah Alcock
Everyone knows that what really makes eating out expensive is the wine. So whenever it's my turn to choose a restaurant I always opt for a BYOB. Here are three of my favourites...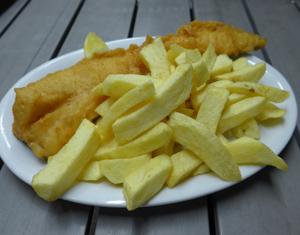 I had been meaning to try Brockley's Rock (a fish and chip restaurant on Brockley high street) for some time (it's just down the road from my house) – turns out, it's pretty darn good! As well as everything you'd expect from a fish shop menu (battered cod, haddock) they also offer healthier, more refined options (not that I'm knocking fish and chips) such as grilled seabass and calamari. We tried the marinated tiger prawn salad, which was beautifully fresh and packed with zingy Asian flavours. The more traditional battered fish was flaky and the batter was golden and crisp. The best thing is the portion size – good luck rolling home! They pride themselves on using fresh, sustainable fish and also offer gluten-free batter on a Tuesday night. They have to clean out all the fryers to ensure it's completely gluten-free, which explains why it's just Tuesdays. It's great for me and my fellow coeliacs. With a steady queue for take-away, I would highly recommend eating in and enjoying a glass of whatever you choose to bring along.
Corkage: £2
Best for: Gluten-free battered fish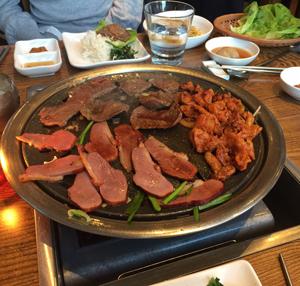 With excellent reviews from Time Out I though it was worth giving this Korean restaurant a go. I didn't really know what to expect, as I'm not hugely familiar with Korean cuisine, but I was pleasantly surprised. We were given a selection of mini starters, including kimchi (traditional spicy, sour fermented vegetables). For the main, they fire-up the stove in the middle of each table and a chef comes out to cook your choice of meat. I chose delicious smoked duck, and my friend had tenderloin beef and spicy pork, both were packed with flavour and really tender. The meat was served with individual dipping sauces including a salty soy bean paste. Unfortunately the only drink you're allowed to bring yourself is wine, but there is a licensed bar if you fancy a beer or two!
Corkage: £4
Best for: Fiery Asian flavour combinations
Ottoman BBQ Restaurant, New Cross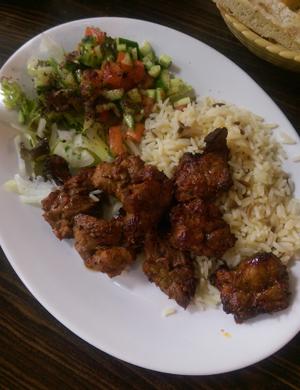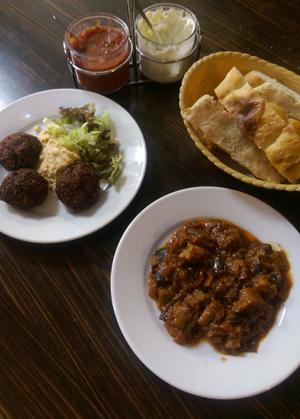 Sophistacted kebabs...
Ottoman has a classic Turkish menu with familiar dishes such as chicken shish, ribs, iskender, but it's all cooked perfectly. I love starting with saksuka, (aubergine baked with tomatoes, onions, green peppers and garlic) which is juicy and delicious. The lamb and chicken shish kebabs are beautifully succulent and tender and served with lovely, slightly 'nutty' rice and salad. The décor isn't sophisticated, but this place is about good-quality, simply cooked food. The staff are always smiling and friendly, so if you fancy great, good-value food with humble surroundings I would definitely recommend it.
Corkage: free
Best for: Beautifully grilled meat
Up market options...
Want something a bit more upmarket? Try Hawksmoor (various London locations) for a great steak or Corrigans (Mayfair) that both offer BYOB on a Monday night. Hawksmoor will set you back £5 for corkage so might be worth taking a pricier bottle but Corrigans charges nothing, and even invites you to drop your bottle off early so they can get it to the right temperature for when you dine.
What's your favourite BYOB? Leave us a comment below...
Don`t miss

---