Food
3 easy salmon starters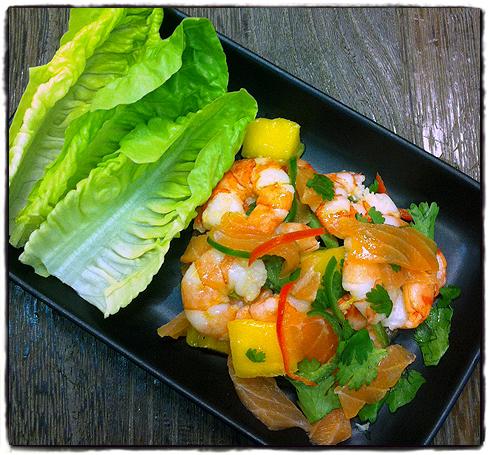 Smoked salmon is a classic dinner party starter – but other than serving it on blinis, what else can you make to kick-start your soirée? We've come up with three easy recipes to refresh your menus.
Cheat's salmon & prawn 'ceviche'
(pictured above)
Authentic ceviche involves the 'cooking' or curing of fish in citrus juices, so it's essential to use impeccably fresh raw fish. If the idea of raw fish doesn't appeal, this cooked version is a great alternative and still packs the fresh punch of regular ceviche.
Serves 4
150g cooked peeled king or tiger prawns
100g diced ripe mango
juice of 2 limes
1-2 red and/or green chillies, deseeded and cut into fine strips
120g smoked salmon, torn into pieces
a small handful of coriander leaves
Little Gem lettuce leaves, to serve
1. Cut the prawns in half lengthways and toss with the diced mango, lime juice, sliced chillies and a pinch of salt. Set aside for 10-15 minutes for the flavours to infuse.
2. Gently stir in the salmon and coriander, and serve immediately. Load each lettuce leave with a spoonful of the ceviche and eat in one big juicy mouthful.
Layered salmon & crayfish cocktail
The sweet flavour of crayfish tails goes particularly well with the salmon and adds an extra touch of luxury. You could also use small cold-water prawns, brown shrimp or mini scallops, briefly pan-fried and cooled before using.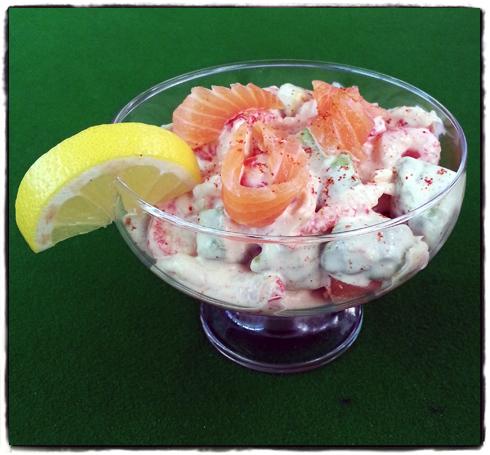 Serves 2-3
3 tbsp crème fraîche
3 tbsp seafood sauce
150g cooked peeled crayfish tails
1 small ripe avocado, stoned and diced
ground mace and/or cayenne pepper
120g smoked salmon, cut into 1cm-wide strips
1. In a small bowl, mix together the crème fraîche and seafood sauce with a pinch of salt and some freshly ground black pepper. Gently stir in the crayfish and avocado, then season with a pinch of mace or cayenne (or both).
2. Layer half the mixture into glass bowls or martini glasses, then top with a layer of the salmon (keeping back some for the top). Add a second layer of the crayfish mix, then top with a few curls of the reserved smoked salmon. Sprinkle over a little extra mace or cayenne and serve.
Smoked salmon pâté on rye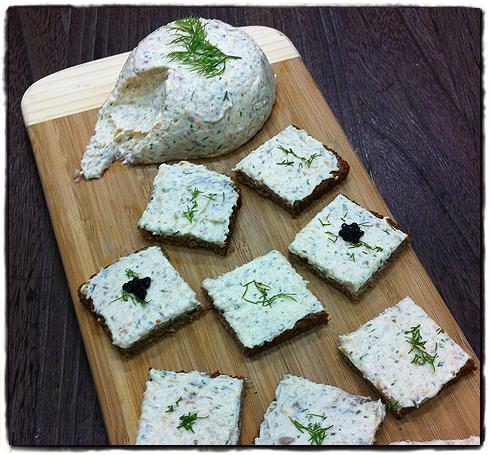 Serves 6
120g smoked salmon (trimmings are perfect for this)
75g light cream cheese with cucumber
2 tbsp roughly chopped dill, plus extra to serve
1 tbsp lemon juice
100ml double cream
6 thin slices dark German-style rye bread (we like Kelderman)
1. In a small food processor, blitz together the smoked salmon, cream cheese, dill and lemon juice with a pinch of salt and a generous grinding of black pepper.
2. Whip the cream to almost stiff peaks and gently fold into the salmon mixture. Taste and adjust the seasoning. Chill for at least 1 hour before serving.
3. Spread thinly on to the slices of bread and cut into bite-sized squares. Serve with a little extra dill on top of each square, or a drop of caviar if you're feeling flush.
TIP: If you wish to serve the pâté at the table for people to help themselves, line small individual ramekins with clingfilm. Fill with the pâté mixture, pressing down firmly to make sure there are no air pockets, and chill until set. Turn out of the ramekins and remove the clingfilm just before serving.
About the author