Food
3-day pre-holiday supper plan
If you're gearing up to putting on your swimsuit for the holidays, you may have considered a week or two of undressed salads and carrot sticks before jetting off, but we have a better idea. These three healthier dinners are perfect if you want to avoid fatty, bloating foods before hitting the beach, and they're full of goodness and flavour so you can ditch your one-boiled-egg dinner.
What are your go-to healthier holiday recipes? Tell us in the comments box below.
Recipes by Kim Morphew
Tuna with salsa verde, broccoli and beans (pictured above)
Serves 2
150g brown basmati rice
100g tenderstem broccoli, in short lengths
75g green beans
2 tsp capers, finely chopped
2 tbsp chopped flat-leaf parsley
½ garlic clove, crushed
15g cocktail gherkins, finely chopped
zest of 1 lemon
1 tsp Dijon mustard
1 tbsp olive oil
2 x 150g tuna steaks
10g sesame seeds, toasted
1 Bring a pan of water to the boil and cook the rice for 25 minutes until tender; drain and keep warm.
2 Meanwhile, in a separate pan, boil the broccoli and beans for 3 minutes; drain, then transfer them to a bowl.
3 Stir in the capers, parsley, garlic, gherkins, lemon zest, mustard and ½ tablespoon of the olive oil. Set aside and keep warm.
4 Roll the edges of the tuna in the sesame seeds. Heat a griddle pan. Brush the tuna with the remaining oil and cook for 6-8 minutes to your liking, turning halfway.
5 Divide the rice between 2 plates, top with the tuna and serve the greens on the side.
Moroccan turkey and chickpea salad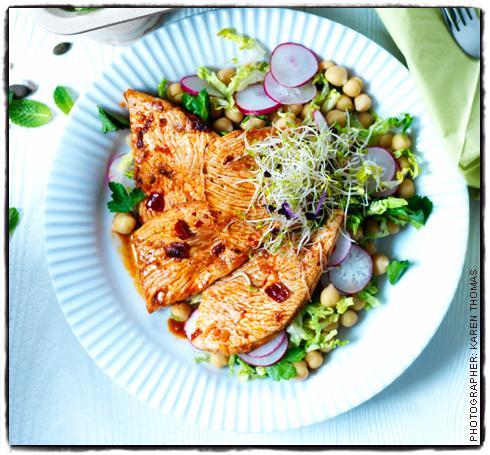 Serves 2
2 quick-cook lean turkey breast steaks (350g), halved
1 tbsp harissa paste
grated zest and juice of 1 lemon
1 garlic clove, crushed
1 tbsp olive oil
2 tbsp chopped fresh parsley
1 x 410g tin chickpeas in water, drained and rinsed
1 large Little Gem lettuce, finely shredded
40g radishes, sliced
20g Good4U alfalfa and sango radish shoots
1 Put the turkey steaks in a shallow non-metallic bowl with the harissa paste, lemon zest, garlic and olive oil. Coat the turkey all over in the marinade, then set aside.
2 Meanwhile, toss the chopped parsley, chickpeas, lettuce and radishes together in a large bowl. Season generously and divide between 2 plates.
3 Gently heat a nonstick frying pan until hot, then cook the turkey steaks for 2 minutes on each side, or until cooked through. Reserve the marinade. Transfer the turkey to the plates.
4 Deglaze the frying pan with the reserved marinade and lemon juice, then drizzle the juices over the turkey. Divide the alfalfa and radish shoots between the plates to serve.
Crunchy wholewheat noodle salad
Serves 2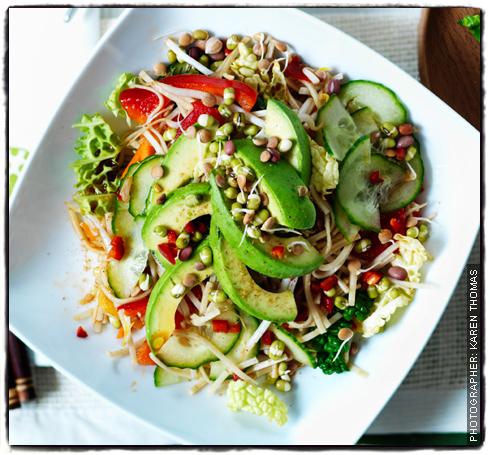 150g dried wholewheat noodles
1 x 300g pack mixed pepper stir-fry vegetables
50g cucumber, finely sliced
1 avocado, sliced
50g Good4U lentil, pea and bean shoots
a pinch of Chinese five spice
For the dressing
1 small red chilli, deseeded and finely chopped
½ garlic clove, crushed
juice of 1 lime
2 tbsp reduced-salt soy sauce
1 tbsp toasted sesame oil
1 Cook the noodles in a pan of boiling water for 5 minutes. Drain, rinse under cold water, drain again, then set aside.
2 Combine all of the ingredients for the dressing together in a small bowl.
3 Mix the noodles with the stir-fry veg and cucumber. Divide between 2 bowls. Top with the avocado and the lentil, pea and bean shoots. Season with five spice. Serve with the dressing.
You can find more recipes and fantastic children's cookery books for the summer holidays from Kim Morphew here.
About the author