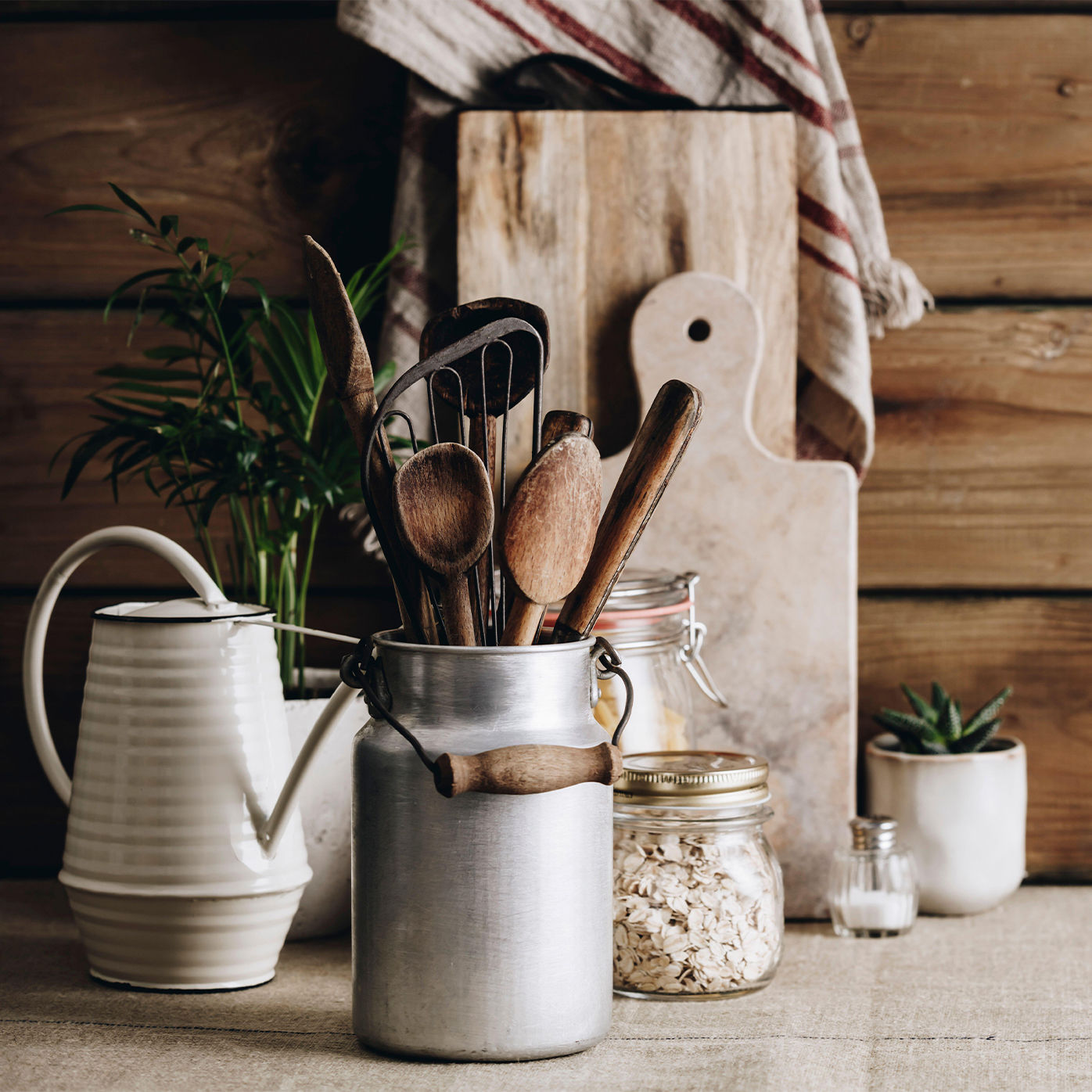 Food
10 clever ways to save money when you cook
Find out how to be greener and save money in the kitchen with our clever ways to be a more thrifty cook
1. KEEP IT FRESH
'If you buy bagged salad, put a dry paper towel inside to absorb moisture, which can help prevent leaves going slimy before you can eat them,' says Karen Edwards, author of The Planet-Friendly Kitchen: How to Shop and Cook With a Conscience (Summersdale, £8.99). 'Store strawberries in an airtight jar in the fridge, to keep them crisp for longer – take out any squishy ones and freeze for smoothies. Store bananas, apples and onions away from other fruits and vegetables, as they speed up ripening and spoiling.'
2. FREEZE FLAVOURS
'Freezing curry pastes and chopped ginger, garlic, lemongrass and lime leaves works a treat so you don't waste any,' says TV chef Jeremy Pang.
3. SHUT THAT DOOR
Cold air falls straight out of vertical fridges and freezers, so save energy by keeping them shut as much as possible. Opening the oven forces hot air out, meaning cooking takes longer and uses more carbon. If the oven has to be on, try to fill it up – roast any vegetables going wrinkly in the bottom of the salad drawer. And there's no need to turn the oven on 20 minutes before cooking; modern appliances take just a few minutes to get hot.
4. USE FEWER PANS
'Even now, my mum screams at the telly if she sees a chef boiling lots of different things in different pans. She taught me to add vegetables to the pasta or rice pan at the end of cooking, or to steam them on top,' says Melissa Hemsley, author of Eat Green: Delicious Flexitarian Recipes for Planet-friendly Eating (Ebury, £25). 'This saves fuel and water, keeps many of the nutrients and there's less washing up… and I hate washing up!'
5. HAVE A SCRAPS BAG
'In my freezer I have a chicken-bones bag, and a veg-scraps bag,' says food writer Melissa Thompson (fowlmouths.co.uk). 'They're for stock, and I add constantly – wing tips, skin and chicken carcasses to the bone bag, and trimmings for the veg bag. Once full, I make stock for risottos and soup. It means I use every little bit of any chicken and no veg goes to waste.'
6. USE A PRESSURE COOKER
'Pressure cooking is a very sustainable option and makes scratch-cooking easier,' says Catherine Phipps, author of Modern Pressure Cooking (Quadrille, £26, out 17 March). 'They cut cooking times by 70%, meaning you save fuel and money at the same time. You save water, too: pasta and most grains are cooked by absorption, so no need to bring water to the boil, and most vegetables steam in seconds with just a splash of cold water.'
7. BUY DRIED PULSES
It is cheaper and more sustainable to buy dried pulses than tinned, in terms of packaging, water, transportation weight and cost. You can make a red lentil dhal in one minute in a pressure cooker, and some beans will take as little as five minutes to cook if soaked first, says Catherine Phipps.
8. CHECK YOUR FRIDGE
Keeping the fridge at 5°C (which only a third of us do) keeps your food fresher for longer.
9. PUT A LID ON IT
Using a pan lid can save up to 40% of the energy normally used, and halves the time it takes water to boil.
10. CHECK YOUR KIT
Store food in silicone bags; Stasher bags (from £9.99, lakeland.co.uk) seal easily and go in the freezer and dishwasher. Get an aerator - a water-saving device that controls water flow - for the kitchen tap. Use eco-friendly soap for washing up and give your plants a drink with the dishwater. Skip the kitchen towel and wipe up with washable cloths instead.
Image: Getty Images
Don`t miss

---