Sponsored: Gnocchi sausage hash with smoky walnuts
---
Prep time: 15
Total time: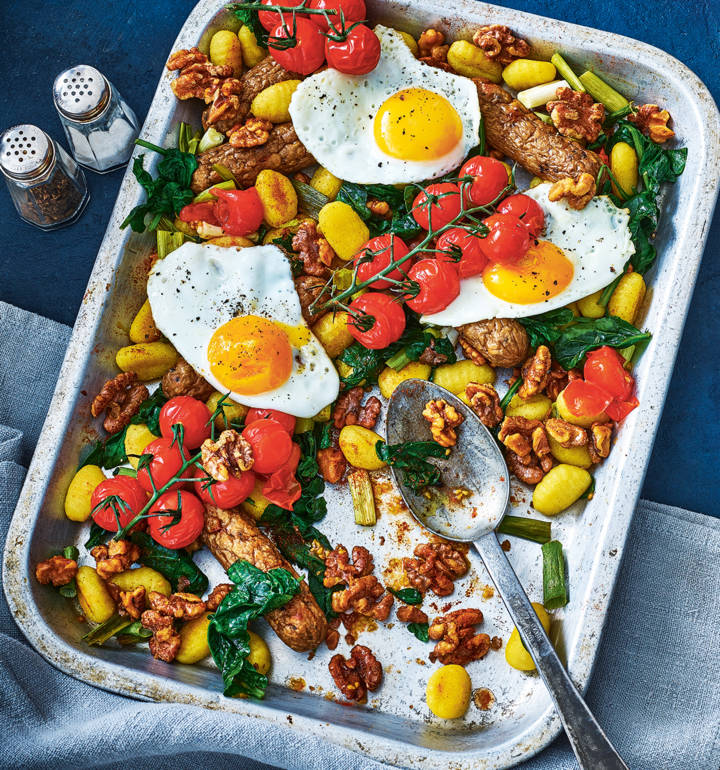 Recipe photograph by Stuart West
Sponsored: Gnocchi sausage hash with smoky walnuts
---
Prep time: 15
Total time:
---
See more recipes
Ingredients
1 x 500g pack gnocchi
3 tbsp olive oil, plus 1 tbsp to fry the eggs
1 bunch spring onions
8 vegetarian or vegan sausages
250g cherry vine tomatoes
100g California walnut pieces
1 tsp smoked paprika
1 tbsp light brown sugar
100g baby spinach
4 medium eggs*, to serve (optional)
Step by step
Preheat the oven to 220°C, fan 200°C, gas 7. Toss the gnocchi with 1½ tablespoons of oil and some seasoning. Spread out on a very large shallow baking tray (use two if necessary). Roast for 10 minutes until starting to turn golden

Meanwhile, chop the spring onions into chunks and place in a mixing bowl with 1 tablespoon of oil and the sausages. Mix to coat, then snip the tomatoes into small bunches and mix through gently.

Stir the gnocchi around (they should be starting to look golden) and mix in the sausages and the veg mixture. Return to the oven for 10 minutes.

Tip the California walnut pieces into the same bowl and add the paprika, sugar, ½ tablespoon of oil and seasoning; mix to coat. Scatter over the tray(s) of hash and cook for 5 minutes. Stir in the spinach and return to the oven for 2 minutes until wilted.

Meanwhile, heat 1 tablespoon of oil in a large frying pan and fry the eggs to your liking, if using. Serve on top of the hash.

Use dairy-free gnocchi and vegan sausages if required; omit the eggs if vegan.
Don't miss

---