Sauerkraut
Makes
2 x 1 litre jars
|
prep
25 mins
|
total time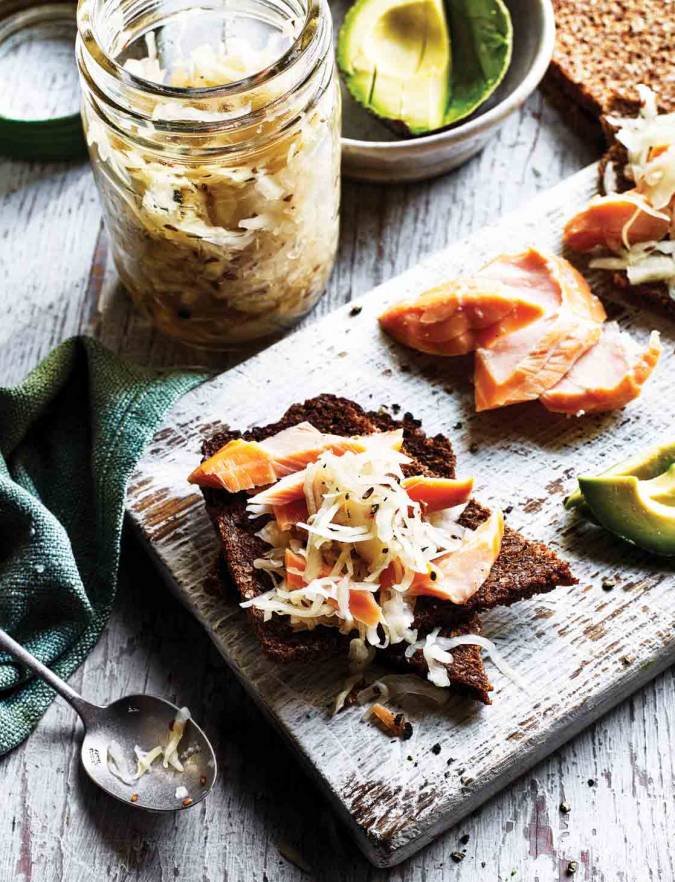 Nutritional information (tablespoon)
See more
Ingredients
2kg white cabbage, cored

4 tbsp fine sea salt, plus extra if needed

1 tbsp caraway seeds

1 tbsp whole black peppercorns
Get ahead
Unopened jars keep in the fridge for 2 months. Once opened, eat within 2-3 weeks. Ensure the sauerkraut is submerged in brine.
Chop the cabbage into chunks then shred finely in a food processor with the slicing attachment (or you can slice thinly by hand). In a very large non-metallic bowl, mix the cabbage with 2 tablespoons of salt, massaging it in well for 2 minutes with clean hands so it softens. Leave to stand 5 for about 15 minutes, massaging the mixture every 5 minutes. It will reduce considerably in volume during this time, and some brine will form. Mix in the caraway seeds and whole black peppercorns.
Pack the spiced salted cabbage into 2 sterilised 1-litre jars*, pressing down well (leave 3-4cm space at the top of each jar), then top up the jars with the brine that has come off the cabbage. Tap the jars on a work surface to ensure any air bubbles are released. Sit the jars in a baking tin, to catch any brine overflow.
Mix 1 tablespoon of sea salt with 500ml water and mix to dissolve. Pour into 2 sandwich bags and seal. Pop one in the top of each jar to weigh down the cabbage and create an airtight seal at the top of the jar. You may not need all the saline, depending on your jars. (The saline in the bag stops the sauerkraut drawing in more water.)
Over the next 24 hours, remove the saline bag and press down on the cabbage occasionally; as it releases more liquid it will become more compact. The brine should rise up to cover the surface of the cabbage, helping the fermentation process while keeping it preserved, but if it doesn't, make some extra brine by dissolving 1 teaspoon of salt in 250ml water and use this to top up the jars, replacing the bag of saline on top.
Transfer to a cool, dark place to ferment for at least 5 days when it will be ready to eat – but you can leave it to ferment for 10 days or so. While it's fermenting, you may see bubbles in the brine, or some foam or white scum may form on top – these are all signs of the fermentation process. Skim off any scum. Mould will only form if the cabbage is not fully submerged or if it's in too warm a place, so make sure it is well covered and cool. Use your judgment when fermenting – if it smells mouldy, trust your senses and discard the sauerkraut.
Check on the cabbage every day or so after the initial 5 days and give it a taste. When the flavour and level of acidity is to your liking, remove the saline bags, top up with more brine if needed, seal the jars with sterilised lids and store in the fridge.