Sticky ginger and rhubarb pudding
---
Prep time: 20 mins
Total time: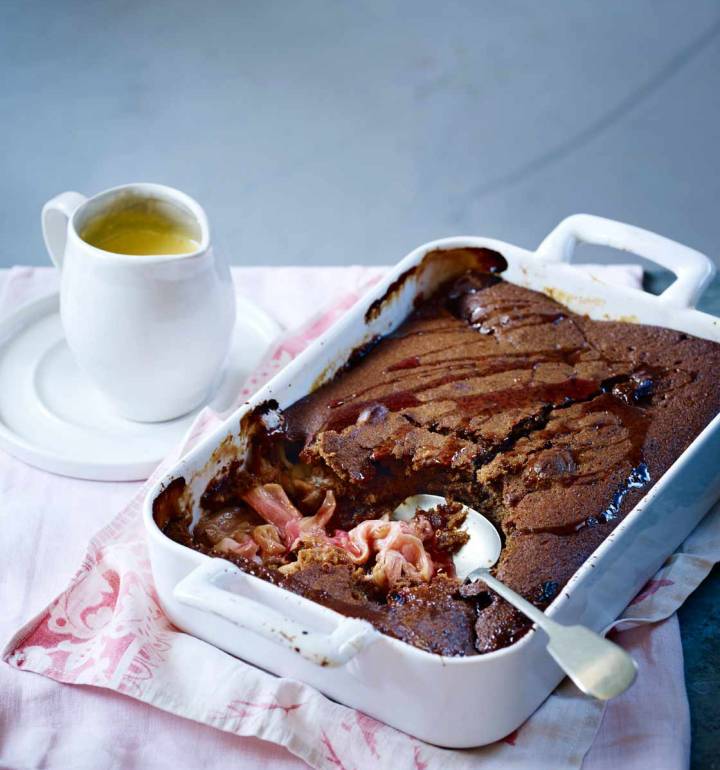 Photographed by Toby Scott
Sticky ginger and rhubarb pudding
---
Prep time: 20 mins
Total time:
---
See more recipes
---
Nutritional information (per serving)
---


Ingredients
800g rhubarb, in short lengths
300g caster sugar
2 tsp vanilla extract
125g soft butter, plus extra for greasing
100g dark muscovado sugar
200g plain flour
1 tsp ground ginger
1 tsp baking powder
3 large eggs
3 tbsp black treacle
3 balls stem ginger (from a jar), finely chopped, plus 2 tbsp stem ginger syrup
150ml milk
Step by step
Preheat the oven to 180°C, fan 160°C, gas 4.
Scatter the rhubarb into a shallow ovenproof dish (about 28cm x 20cm x 6cm deep) with 200g of the caster sugar, the vanilla extract and 2 tablespoons water. Toss together and bake, uncovered, for 25 minutes.
In an electric mixer, beat together the butter, dark muscovado sugar and the remaining 100g caster sugar until combined. Mix in the flour, ground ginger, baking powder, eggs, black treacle and the chopped stem ginger. Gradually mix in the milk. The mixture might look slightly curdled but it will be fine once baked.
Tip the rhubarb into a sieve set over a bowl; gently press on the fruit to extract the juice (keep this). Rinse, dry and butter the dish and spoon the rhubarb back into it. Pour the pudding mixture on top.
Bake for 50 minutes or until risen and set. Meanwhile, boil the rhubarb cooking juice in a pan with the stem ginger syrup for about 10 minutes or until syrupy. Drizzle over the hot pudding.
Don't miss

---