Nectarine, goats' cheese and caramelised onion galette
---
Serves:
6 as a starter, 4 as a light meal
Prep time: 25 mins
Total time: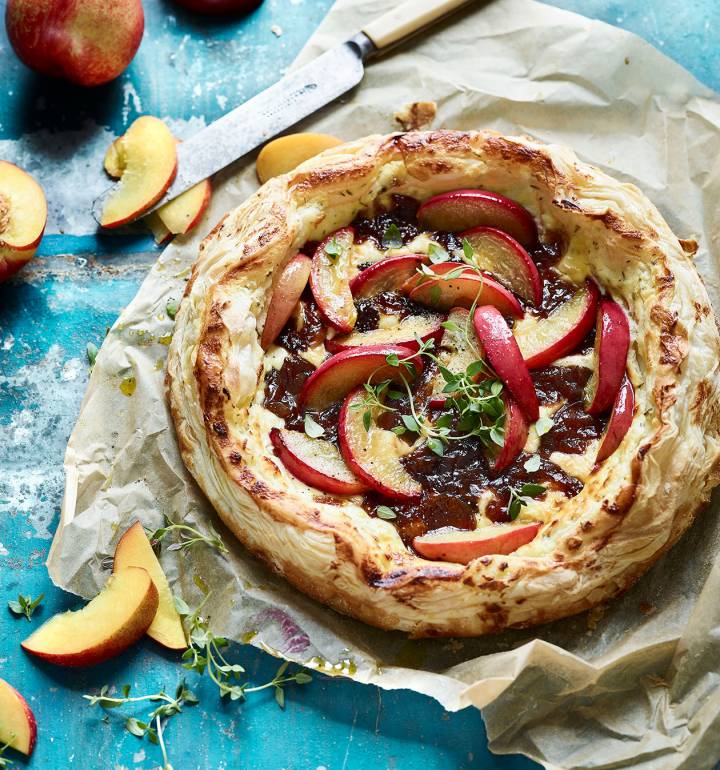 Recipe photograph by Maja Smend
Nectarine, goats' cheese and caramelised onion galette
This goats' cheese galette makes the perfect starter or light lunch in the garden
---
Serves:
6 as a starter, 4 as a light meal
Prep time: 25 mins
Total time:
---
See more recipes
---
Nutritional information (per serving)
---


Ingredients
1 x 320g sheet ready-rolled puff pastry
150ml full fat crème fraiche
125g vegetarian soft goat's cheese, crumbled
juice of ½ lemon
2 tsp chopped thyme, plus extra to garnish (or used 1 tsp dried)
2 ripe nectarines
150g caramelised onion chutney
1 egg, beaten
Step by step
Place a large baking tray into the oven and preheat to 200°C, fan 180°C, gas 6. Unroll the puff pastry sheet on a floured work surface and use a rolling pin to roll out to a 30cm square. Trim the corners to make a roughly round disc (use an upturned bowl or cake tin to guide you if you like). Transfer to a large sheet of baking paper.
Mix the crème fraiche, goat's cheese, lemon juice and thyme together, mashing with a fork to break up the lumps of cheese. Season generously.
Cut the nectarines in half, removing the stones, then slice into thin wedges.
Spread the goat's cheese mixture over the tart, leaving a 4-5cm border around the edge. Use a teaspoon to drop dollops of onion chutney over the cheese. Arrange the nectarine slices on top and season again.
Fold over the pastry border in sections, so it overlaps the filling slightly. Lift the baking paper; slide the tart onto the hot tray (keep the baking paper under the tart).
Brush the exposed pastry with the egg, then bake for 35-40 minutes, until the crust is golden and crisp. Sprinkle with the extra thyme, if using, and serve.
Don't miss

---