Autumn minestrone
---
Prep time: 30 mins
Total time: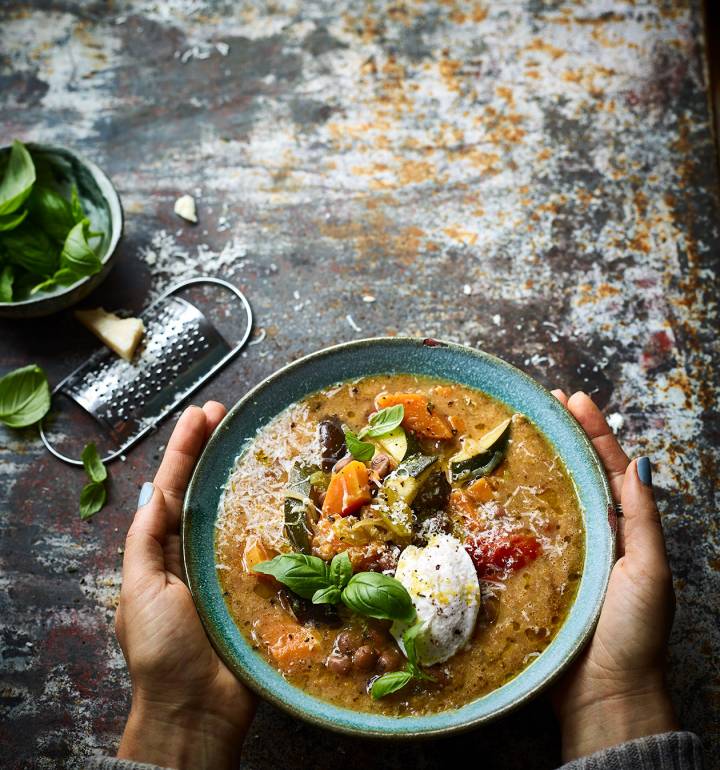 Recipe photograph by Maja Smend
Autumn minestrone
The chef-founder of London restaurants Salon and Levan, Nicholas Balfe is dedicated to using seasonal, sustainable ingredients and avoiding waste. He shares his recipe for comforting minestrone - and you can use up whatever veg are in your fridge
---
Prep time: 30 mins
Total time:
---
See more recipes
---
Nutritional information (per serving)
---
Ingredients
4 large ripe tomatoes
1 aubergine
1 courgette
any other veg you have around the kitchen that needs using up eg squash, broccoli etc
5 tbsp olive oil
2 shallots, peeled
4 garlic cloves, peeled
2 celery sticks
1 carrot, peeled
a few sprigs of thyme, leaves picked
1 or 2 bay leaves
a pinch of chilli flakes
1 x 400g tin borlotti beans or chickpeas, rinsed and drained
about 100ml white wine (optional)
about 800ml vegetable stock - use GF if required
zest and juice of 1 lemon
1 x 30g pack basil, leaves picked
4-6 tbsp ricotta or soft cheese, optional
about 50g grated Parmesan, Pecorino or vegetarian alternative
extra-virgin olive oil, to serve
Step by step
Keeps in the fridge for up to 3 days
Preheat the oven to 180°C, fan 160°C, gas 4. Quarter the tomatoes and roughly chop the aubergine, courgette and any extra veg that is robust enough to roast (keep back greens such as broccoli to add to the soup later, with the stock). Toss with 2 tablespoons of olive oil and salt, spread out in a roasting tin and cook in the oven for 30 minutes or until soft but not falling apart.
Slice the shallots, garlic and celery finely and cook gently in the rest of the olive oil in a heavy-based pan with a pinch of salt until softened, about 10 minutes. Peel and dice the carrot and add to the pan. Add the thyme leaves, bay leaves and chilli flakes and allow everything to cook for about 5 minutes or so until all the veg has softened.
Add the pulses and the wine (if using) and allow to bubble for a few minutes. Add the roasted veg, then the stock and any extra green vegetables. There should be enough liquid to cover the veg – if not, you can add some water. Simmer for about 10 minutes, so all the flavours come together.
Remove from the heat and discard the bay leaves. Scoop out 3 ladlefuls of the soup and blend until smooth. Stir this back into the pan, also adding the lemon juice and zest, and two-thirds of the basil leaves, chopped. Check the seasoning and adjust if required.
Divide between your bowls. Top each with a spoonful of ricotta and grated cheese, plus the remaining basil leaves and a drizzle of extra-virgin olive oil.
Don't miss

---