Grilled vegetable salad with Manchego
Serves
8
|
prep
1 hr
|
total time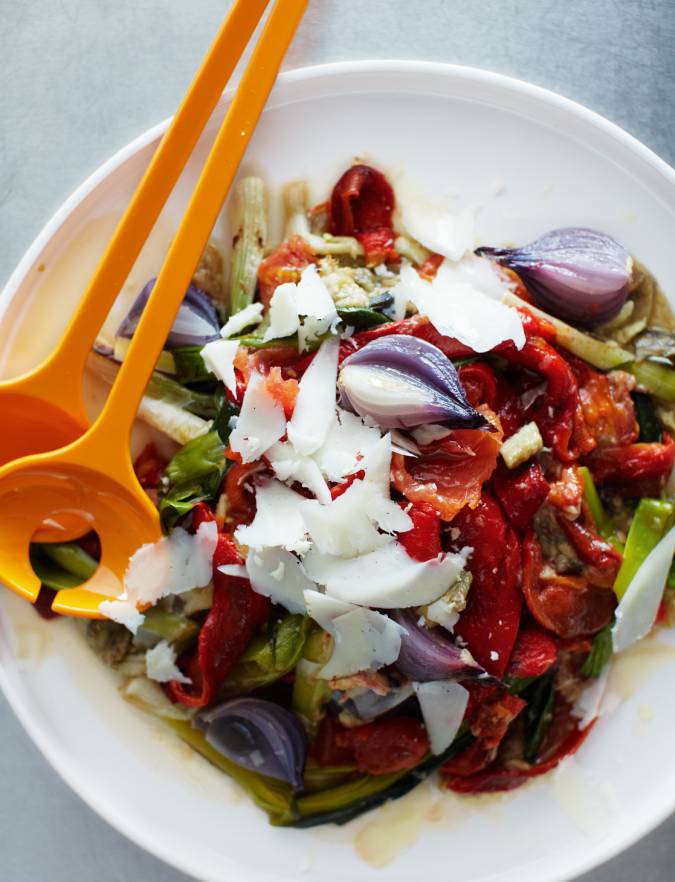 Nutritional information (per serving)
See more
Ingredients
1 bulb garlic

3 aubergines

3 tbsp olive oil, plus extra for brushing

3 red peppers

2 red onions

3 tomatoes

8 baby leeks

8 spring onions

1 tbsp sherry vinegar

50-75g manchego cheese, shaved
Get ahead
Prepare and grill the vegetables a day or two in advance. Combine with the dressing a few hours ahead, scatter with the cheese to serve.
Preheat the grill to high. Take 3 cloves of garlic from the bulb and peel them. Make a small slit in each aubergine just large enough and push in a clove.
Brush all the vegetables with olive oil to coat them – the easiest way to do this is with your hands. Place the aubergines, peppers, onions and the bulb of garlic on a large baking tray and grill them for about 30 minutes, turning every 5 minutes or so. Do this in batches if your grill isn't big enough for everything in one go. You want the vegetables to be charred on the outside and the skins splitting.
Grill the tomatoes, leeks and spring onions – these will only take 10-15 minutes.
Put all the grilled vegetables into a large bowl and cover with clingfilm. Leave the vegetables to cool for about 10 minutes.
Next, chop and peel the vegetables. This is a messy business so I find it useful to have a bowl of water to one side to rinse my hands in as I go. Once the vegetables are cool enough to handle, peel the aubergines and discard the garlic from inside. Skin the peppers and remove all the seeds and membranes. Peel the onions and cut them into wedges. Skin the tomatoes and remove the seeds. Trim the baby leeks and spring onions. While you're doing this, try to keep all the juices. Finally, either shred all the vegetables (not the garlic) with your fingers or roughly chop them with a knife.
To make the dressing, take a small bowl and squeeze the remaining garlic flesh out of the skins, then mash with the back of a fork to make a purée. Whisk in the vinegar followed by 3 tablespoons of oil. This will make a lovely creamy emulsion. Season to taste.
Mix the garlic dressing thoroughly with the vegetables and their juices and arrange on a serving dish. Cover and leave to marinate for a couple of hours at room temperature.
Scatter the cheese shavings over the top before serving and drizzle with a little olive oil to finish.
This takes a bit of time to prepare but is well worth the effort.