Kimchi
Makes
about 1 litre
|
prep
25 mins
|
total time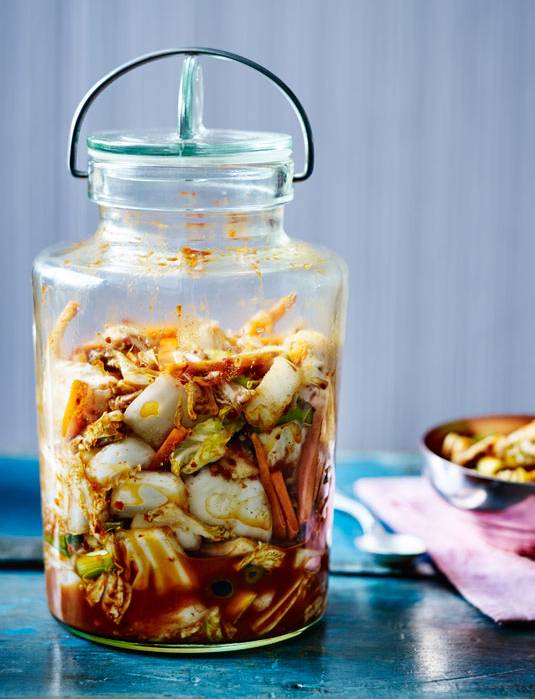 Nutritional information (per serving)
See more
Ingredients
2 heads of Chinese leaf

100g coarse salt
For the spice paste
10 garlic cloves, peeled

a 6cm piece of fresh ginger, peeled and chopped

4 tbsp Thai fish sauce

2 tbsp granulated sugar

2-3 tbsp crushed chilli flakes

4 tbsp paprika or 100g Korean red pepper powder (gochugaru - available at souschef.co.uk)

6 spring onions, cut into 2.5cm lengths

1 large carrot, cut into matchsticks
Get ahead
Start this at least 1 week before you plan to eat it.
Cut the heads of Chinese leaf into quarters, then cut into roughly 4-5cm wide pieces. In a large pot or bowl, mix the salt with 500ml water from a freshly boiled kettle and stir until completely dissolved, then add another 1.5 litres very cold water. Place the Chinese leaf in the brine and weigh down with a plate to keep it submerged. Refrigerate for 2 hours; the Chinese leaf should be quite wilted.
To prepare the spice paste, combine the garlic, ginger, fish sauce, sugar, chilli flakes and paprika in a mini food processor and blend for about 1 minute until smooth, adding water as necessary to make a loose paste. Stir in the spring onions and carrot.
Remove the Chinese leaf from the fridge and drain. Rinse with cold running water once and drain very well, squeezing out as much water as possible. Combine the spice paste with the Chinese leaf in a bowl and mix really well until thoroughly coated. Cover and leave to stand at room temperature for about 4 hours; it will wilt further. Pack into a 1-litre Kilner jar. Loosely close the lid and sit the jar on a plate to catch any drips. Leave at room temperature for 24 hours, stirring occasionally (a chopstick is an ideal implement). The kimchi will smell very pungent. Seal the lid and move to the fridge. Let it mature for a week. Use within 1 month.
It is extremely versatile; eat it raw, add it to sandwiches, stir-fries or soups, and use the juice to flavour sauces and marinades.