Chilli-lime tofu salad with soft boiled egg
---
Prep time: 15 mins
Total time: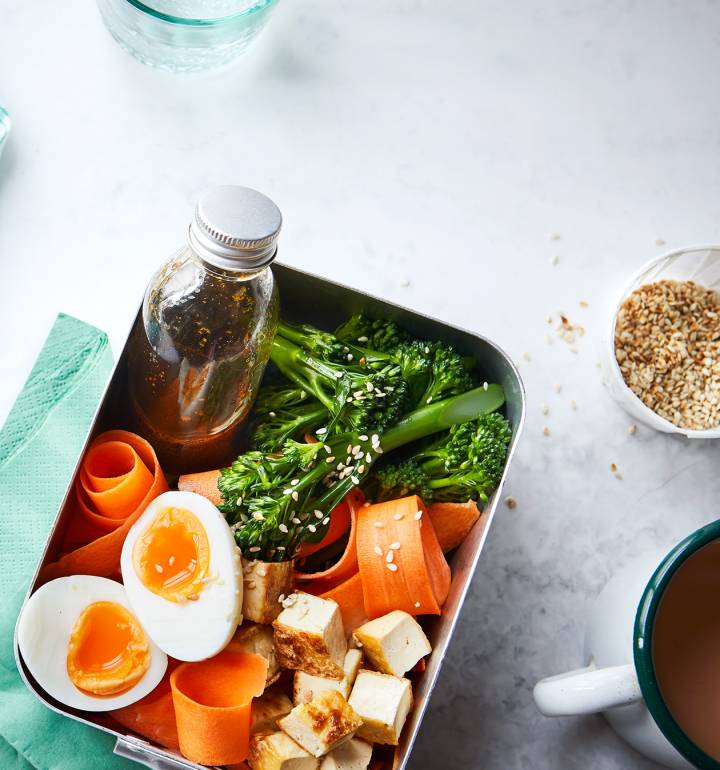 Recipe photograph by Maja Smend
Chilli-lime tofu salad with soft boiled egg
Just 15 mins prep is it all it takes to make this tasty packed lunch
---
Prep time: 15 mins
Total time:
---
See more recipes
---
Nutritional information (per serving)
---
Ingredients
½ x 280g pack Tofoo firm tofu
2 tsp vegetable oil
200g pack Tenderstem broccoli, trimmed
2 medium eggs, at room temperature
1 large carrot, about 150g
2 tsp toasted sesame seeds
For the dressing
2 tbsp dark soy sauce
juice of 1 lime
2 tsp sriracha or other hot chilli sauce
1 tsp grated root ginger
2 tsp clear honey
Step by step
Wrap the tofu in several layers of kitchen paper or a tea towel. Press firmly to remove excess water, then cut into 2cm wide slices. Heat a large nonstick frying pan until very hot and add the oil. Add the tofu and let it brown for around 2 minutes on each side. Remove from the pan and chop into cubes.
Boil the broccoli for 2-3 minutes until just al dente, drain and refresh in cold water then pat dry. Boil the eggs for 7 minutes then drain and submerge in cold water. When cooled, peel and halve. Peel the carrot then shave it into ribbons using the peeler.
Whisk or shake the dressing ingredients together in a jar. Divide the carrot, broccoli, eggs and tofu between two sealable lunch containers. Sprinkle with the toasted sesame seeds. Divide the dressing between two sealable pots and add to the containers. Cover and chill, ready for the next day.
Remove your lunch container from the fridge about 30 minutes before eating, to take off some of the chill, pouring the dressing over the salad so that the flavours can be absorbed as it comes to room temperature.
Don't miss

---