Buttered squash salad with sage and goats' cheese
Serves
4 as a starter or light meal
|
prep
30 mins
|
total time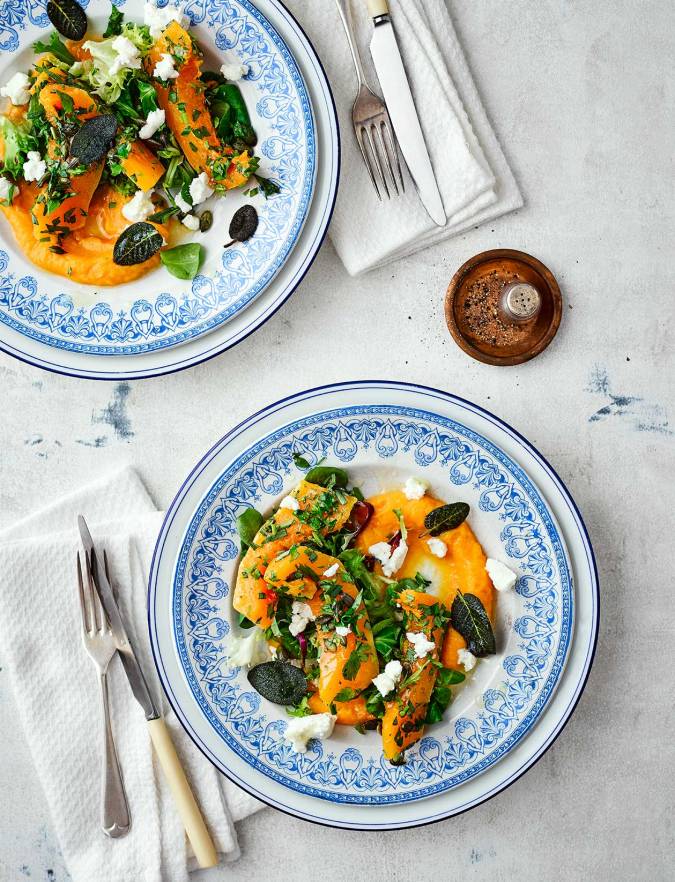 Buttered squash salad with sage and goats' cheese
Subscribe to Sainsbury's magazine
Serves
4 as a starter or light meal
|
prep
30 mins |
total time
A perfect winter salad from chef Danny Parker, of Jesmond Dene House near Newcastle
Nutritional information (per serving)
Ingredients
1 large butternut squash, about 1kg
For the purée
1 shallot, sliced

1 garlic clove, sliced

75g unsalted butter

about 900ml vegetable stock - use gluten-free stock
For the buttered squash wedges
100g salted butter

50g pumpkin seeds

2 tbsp chopped parsley

2 tbsp chopped tarragon
For the salad
3 tbsp maple syrup

3 tbsp lemon juice (about 1½ lemons)

3 tbsp walnut oil

2 tbsp olive oil, to fry

12 sage leaves

½ x 170g bag crispy salad

100g soft goats' cheese
Cut the top third off the butternut squash. Peel and chop into 1.5-2cm cubes, then place in a small-medium pan with the shallot, garlic, butter and seasoning. Add enough stock to cover the squash, bring to the boil, then cover the pan and simmer for 15-20 minutes until the squash is very soft.
Tip into a sieve set over a large bowl, reserving the cooking liquid, and return the vegetables to the pan. Blend using a hand blender, adding a little of the cooking liquid as needed to create a smooth, glossy purée. Season to taste and put aside.
Peel the rest of the butternut squash, halve and deseed. Cut into 12 wedges. Melt the butter in a large pan that will hold the squash snugly. When foaming, add the squash wedges, seasoning, the reserved cooking liquid and enough stock to cover. Lay a sheet of crumbled- up baking paper on top of the squash wedges to keep them submerged and simmer for 15-20 minutes until softened.
Whisk together the maple syrup, lemon juice and walnut oil to make a dressing and season well.
Toast the pumpkin seeds in a frying pan, cool on a plate, then mix in the parsley and tarragon. Heat the olive oil in the frying pan, add the sage leaves and fry over a medium heat until crisp. Drain on kitchen paper.
Remove the squash wedges from the pan using a draining spoon and turn them in the seed and herb mix to coat. (You can use the buttery cooking liquid to make a risotto or soup.)
Toss the salad leaves with half the dressing. Spoon the squash purée onto each plate and arrange the wedges on top, scattering with any seeds and herbs that are left behind. Pile on the dressed leaves, crumble the goats' cheese over and drizzle with the rest of the dressing. Top with the crispy sage leaves and serve.