Sponsored: English garden pork cutlets
---
Total time: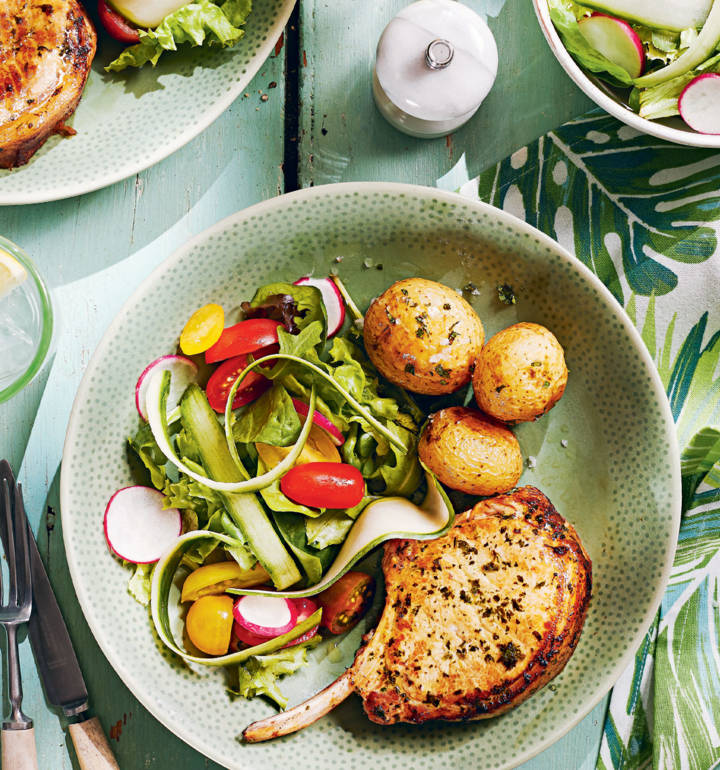 Sponsored: English garden pork cutlets
Classic flavours from the herb garden complement succulent British pork
---
Total time:
---
See more recipes
Ingredients
5g mint, finely chopped
5g flat-leaf parsley, finely chopped
5g chives, chopped
1 sprig rosemary, leaves picked
2½ tbsp olive oil
½ tsp clear honey
4 Taste the Difference Outdoor Bred British Pork Cutlets, trimmed of large pieces of fat
To serve
lightly roasted new potatoes
summer salad
Step by step
Put the fresh herbs in a small bowl, add 2 tablespoons of the oil and all the honey, and mix until combined. Season with salt and freshly ground pepper, then rub the mixture all over the pork. Cover and set aside for 15 minutes, or put in the fridge to marinate for up to 3 hours, if you have time.
Heat the remaining oil in a frying pan. Cook the cutlets over a medium-low heat for 10 minutes, turning occasionally, until cooked through (you may need to do this in batches. If so, cover and keep cooked cutlets warm). Towards the end of cooking, turn up the heat and use tongs to hold the pork on its side to get the fat nicely browned.
Serve the pork with lightly roasted new potatoes and a seasonal summer salad.
Don't miss

---