Roast pork shoulder with crackling and cider gravy
Serves
6-10 depending on joint size
|
prep
25 minutes plus 45 minutes standing and resting time
|
total time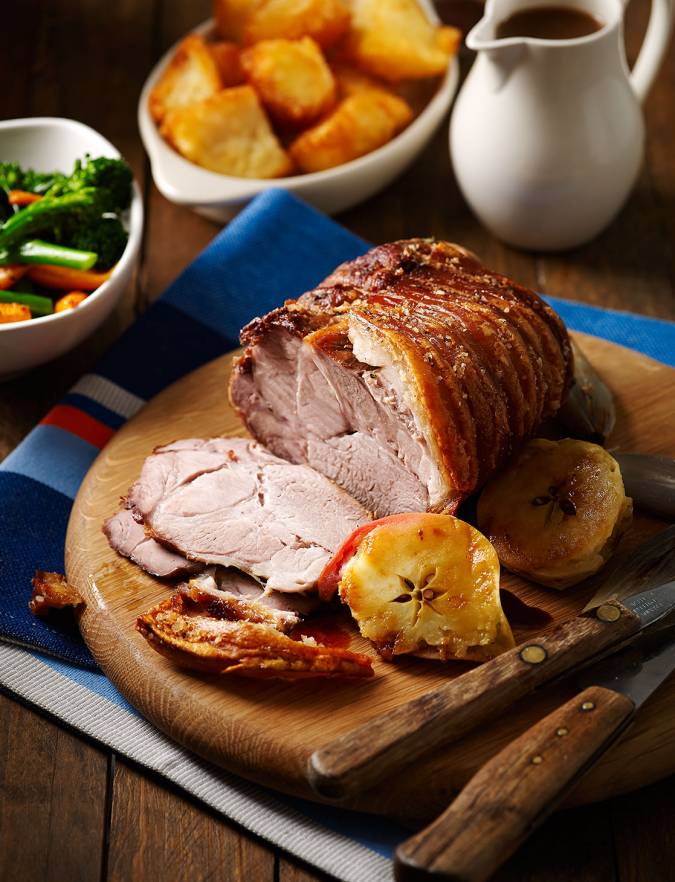 Roast pork shoulder with crackling and cider gravy
Serves
6-10 depending on joint size
|
prep
25 minutes plus 45 minutes standing and resting time |
total time
Ingredients
1 x 1.4-2.4kg large pork shoulder joint by Sainsbury's

1-2 tbsp flaked sea salt

1-2 tbsp freshly ground black pepper

4-5 cox apples, halved horizontally

6 shallots, peeled and halved horizontally

small bunch of sage, washed and finely chopped

1 tbsp plain flour

400ml dry cider
Remove the pork from the fridge 30 minutes before cooking and place out of its packaging on a chopping board.
Preheat the oven to 220°C, fan 200°C, gas 7. Meanwhile, dry the pork all over with a kitchen towel. Mix the salt and pepper together and rub the mix on top of the skin and into the score lines.
Place the pork in a large roasting tin and roast for 25 minutes before reducing the heat to 180°C, fan 160°C, gas 4. Calculate the remaining cooking time allowing 25 minutes per 500g, plus an extra 30 minutes. If the crackling starts to become too dark, cover with a loose piece of foil. 45 minutes before the end of cooking time add the apples, cut side up right and the shallots. Baste with the pork juices. 20 minutes before the end of cooking time stir the sage into the cooking juices and baste the apples and shallots.
After the cooking time, remove the pork, apples and shallots from the oven. Check the meat juices run clear. If the juices are pink continue roasting for a further 10-15 minutes or until the juices run clear. Transfer to a warm serving plate. Cover loosely with foil and allow to rest for 15 minutes.
Meanwhile, to make the gravy, place the roasting tin over a medium heat and stir the flour vigorously into the meat juice. Slowly add the cider and cook for 3-4 minutes or until thickened. To serve, remove the crackling from the pork and break in to pieces. Carve the pork into thick slices and serve straight away with pieces of crackling, apples, shallots, roast potatoes, sprouting broccoli, carrots and cider gravy.