Coffee and chipotle pork chops with slaw
---
Prep time: 30 mins
Total time: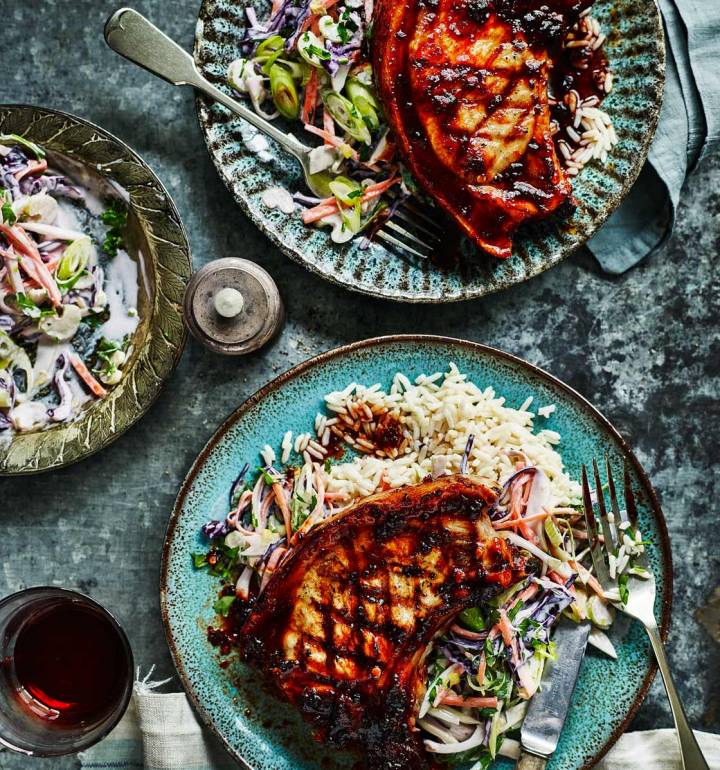 Recipe photograph by Martin Poole
Coffee and chipotle pork chops with slaw
---
Prep time: 30 mins
Total time:
---
See more recipes
---
Nutritional information (per serving)
---


Ingredients
1½ tbsp chipotle chilli paste, from a 90g jar
1 heaped tbsp finely ground fresh coffee
3 tbsp maple syrup
1 tsp smoked paprika
1½ tbsp olive oil
4 x pork chops
For the slaw
4 tbsp mayonnaise
2 tbsp Greek yogurt
2 tsp maple syrup
2 tsp Dijon mustard
juice of ½ lemon (2 tbsp)
250g red cabbage (about ¼ cabbage), finely shredded
1 medium bulb fennel, very finely sliced
1 large carrot, julienned or coarsely grated
3 sticks of celery, including leaves, finely sliced
6 spring onions, finely sliced
½ x 28g pack parsley, chopped
cooked rice to serve, optional
Step by step
Marinade the pork overnight in the fridge, covered with a layer of clingfilm.
Preheat the oven to 200°C, fan 180°C, gas 6. In a dish, mix the chipotle paste, coffee, maple syrup, smoked paprika and 1 tablespoon oil together. Season well. Add the pork chops and turn to coat. Set aside at room temperature while you make the slaw.
For the slaw, put the mayonnaise, yogurt, maple syrup, mustard and lemon juice into a large bowl, season well and mix to combine. Add all the sliced vegetables and parsley and toss to coat. Taste and season more if needed.
Heat a large heavy-based frying or griddle pan over a medium heat with the remaining oil. When hot, brush most of the marinade off the chops (reserve for later) and add the chops to the pan. Cook for 1 minute each side until browned. You will need to do this in 2 batches, unless you have a huge pan. Transfer to a medium roasting tin so that they fit snugly, and spoon over the marinade. Roast in the oven for 8-10 minutes until they are dark golden and just cooked through – the marinade should be bubbling and sticky.
Serve with the slaw plus cooked rice, if you like.
Don't miss

---