Mushroom and thyme tagliatelle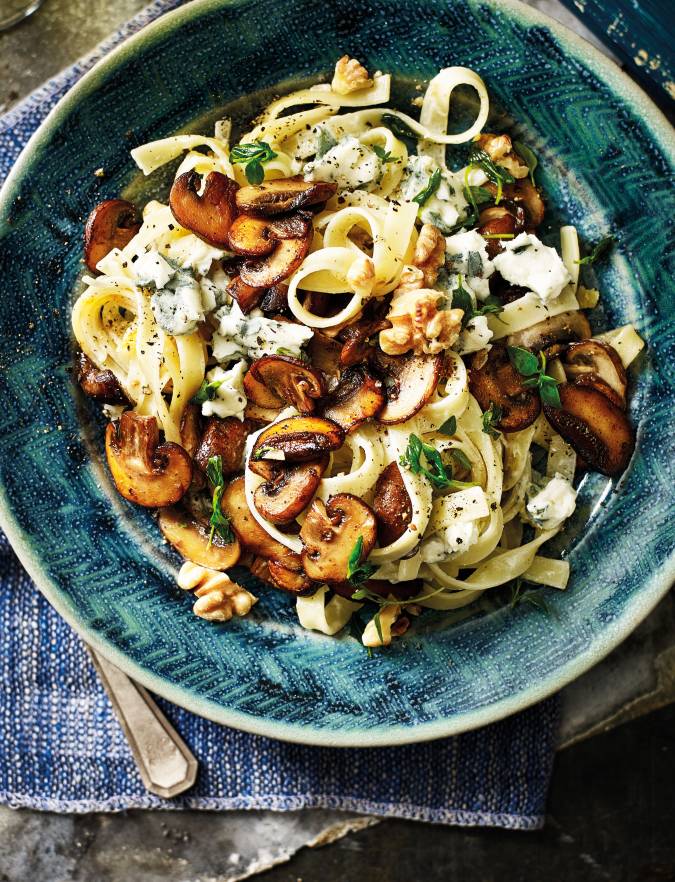 Nutritional information (per serving)
See more
Ingredients
40g chopped walnuts

1 x 250g pack chestnut mushrooms

25g butter

150g tagliatelle

2 echalion shallots (or a small onion), finely chopped

3 garlic cloves, finely chopped

5 thyme sprigs, leaves only

125ml white wine or vegetable stock

5 tbsp half-fat crème fraîche

75g Saint Agur blue crème or other vegetarian blue cheese
Heat a large frying pan, add the chopped walnuts and toast them over a medium heat for 2 minutes; remove to a plate.
Slice the chestnut mushrooms and bring a large pan of salted water to the boil.
Return the frying pan to the heat; melt half the butter. Add the mushrooms and fry over a high heat, stirring occasionally until golden; remove to a plate.

Tip If you prefer a milder blue cheese, use Dolcelatte or Cambozola in place of the Saint Agur.

Add the pasta to the pan of boiling water and cook for 7-8 minutes or until al dente.
Meanwhile, return the frying pan to the heat, add the remaining butter, shallots, garlic and two-thirds of the thyme, cook gently for 5 minutes, then return the mushrooms to the pan. Increase the heat, pour in the wine or stock and season well. Bubble for 2 minutes until reduced, then stir in the crème fraîche and half the cheese.
Drain the pasta, reserving a couple of tablespoons of the cooking water, and return to the pan, add the mushrooms, sauce and reserved cooking water; toss to coat. Season.
Divide between 2 bowls, then crumble over the remaining cheese and sprinkle with the walnuts and remaining thyme.