Slow-cooked beef stew with gremolata
---
Prep time: 25 mins
Total time: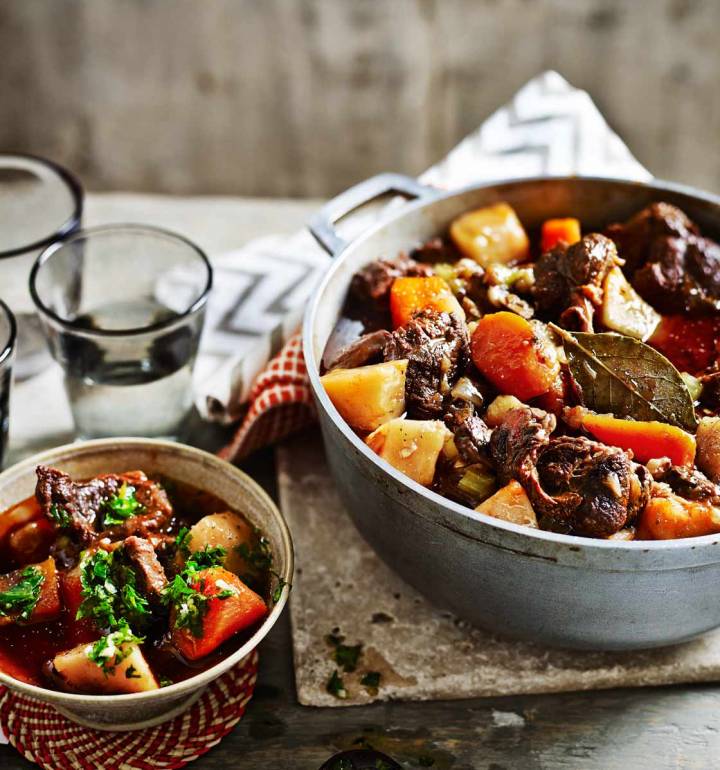 Photographs by Martin Poole
Slow-cooked beef stew with gremolata
---
Prep time: 25 mins
Total time:
---
See more recipes
---
Nutritional information (per serving)
---


Ingredients
800g beef shin (we use organic)
a pinch of sea salt
2 tbsp ghee (or butter)
2 medium onions, roughly chopped
2 sticks of celery, diced
2 garlic cloves, finely chopped
2 bay leaves
3 sprigs of thyme or 1 tbsp dried thyme leaves
2 tbsp tomato purée
½ bottle organic full-bodied red wine
3 large carrots, peeled and chopped into large chunks
1 medium celeriac, peeled and chopped into large chunks
1 tbsp wholegrain mustard
For the gremolata
2 handfuls of flat-leaf parsley, leaves only
1 large garlic clove
zest of 1 lemon
juice of ½ lemon (about 
2 tbsp)
5 tbsp extra-virgin olive oil
Step by step
Make the stew up 
to 2 days ahead; cool and chill. Make the gremolata up to 
2 hours before serving.
Preheat to 160°C, fan 140°C, gas 3. Season the meat with 
sea salt and black pepper. Heat the ghee in a large casserole and gently fry the onions for 6-8 minutes until softened.
Add the celery, garlic, bay leaves and thyme and cook 
for a further 2 minutes. Stir in the tomato purée and fry for another minute; add the meat. Pour over the wine. Bring back to the boil; scrape the pan 
with a wooden spoon to 
release the caramelised juices from the bottom.
Add the chopped carrots and celeriac and 400ml cold water. Bring back to the boil; pop the lid on and cook in the oven for about 3 hours, checking and stirring occasionally. The meat should be very tender. Stir in the mustard and season to taste. Remove and discard the bay and thyme before serving.
Meanwhile prepare the gremolata by whizzing the parsley, garlic, lemon zest and juice together in a food processor, then gradually add the oil, pulsing between each addition. Season to taste.
Serve the stew drizzled with 
a spoonful of gremolata.
A melt-in-the-mouth stew served with a zingy drizzle. Serve with baby spinach or watercress.
Don't miss

---