Vegan pea and watercress risotto
---
Prep time: 40 mins
Total time: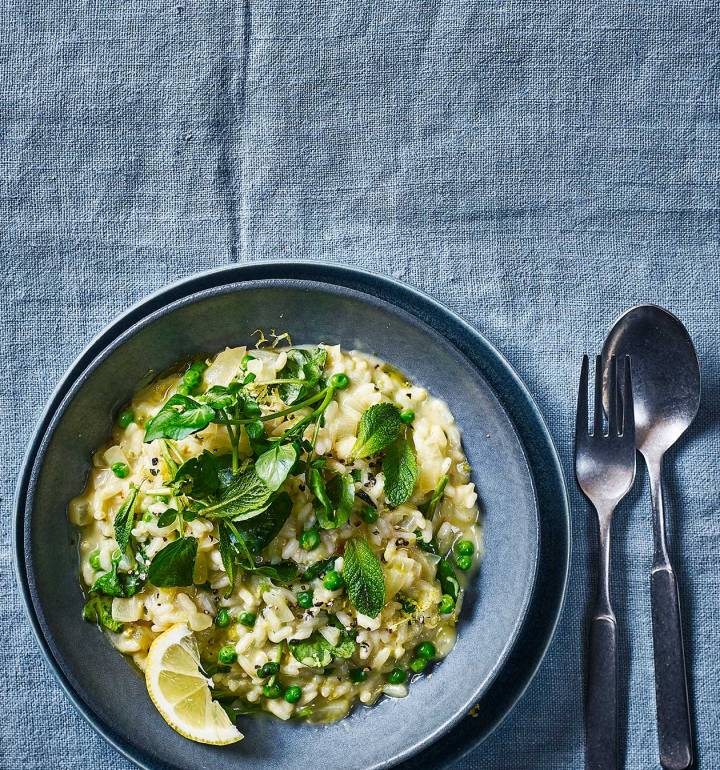 Recipe photograph by Kris Kirkham
Vegan pea and watercress risotto
This risotto is vegan and dairy-free; if you prefer, you can use regular soft cheese and add a sprinkling of Parmesan at the end
---
Prep time: 40 mins
Total time:
---
See more recipes
---
Nutritional information (per serving)
---
Ingredients
2 vegan vegetable stock cubes* (we used Kallo)
2/3 x 30g pack mint, leaves and stalks separated
2 tbsp olive oil
1 large or 2 small onions, finely chopped
3 garlic cloves, crushed
400g risotto rice
250g frozen peas
zest and juice of 1 unwaxed lemon
50g freefrom dairy free soft cheese
1 x 80g bag watercress
Step by step
Put the stock cubes, mint stalks and 2 litres boiling water in a large pan. Keep on a low heat on the back of the hob while you start the risotto base.
Heat 1 tablespoon of olive oil in a deep frying pan or wide saucepan on a medium heat. Fry the onion with a pinch of salt for 8-10 minutes until very soft, but not golden. Stir in the garlic for a minute until fragrant, then add the rice. Cook for 5 minutes, stirring often, to toast the grains and coat in the oil.
Add the hot stock, a ladleful at a time, continually stirring. Discard any mint stalks you pick up. Wait until the stock has been absorbed before adding the next spoonful. After 20-25 minutes of constant stirring and adding, check the grains of rice. Keep adding stock until the grains are just tender and look creamy. You may not need all the stock.
Stir in the peas and cook for 2 minutes more to warm through. Finely chop the mint leaves. Mix most of the mint, lemon zest and juice, and all the soft cheese into the risotto. Check for seasoning, fold in half the watercress, and remove from the heat. Add a lid and leave to rest for 5 minutes.
Mix 1 tablespoon of olive oil, the remaining mint, lemon juice and seasoning to make a simple dressing. Toss the rest of the watercress in the dressing, and serve alongside or on top of the risotto, with more lemon zest and black pepper.

*Make sure the stock cubes are gluten free if required.

Add an extra portion of veg by stirring in 350g lightly cooked broccoli florets with the watercress, for an extra 15p per serving.
Don't miss

---