Sponsored: The ultimate veggie burger with lemon-chipotle mayo
---
Prep time: 30 mins
Total time: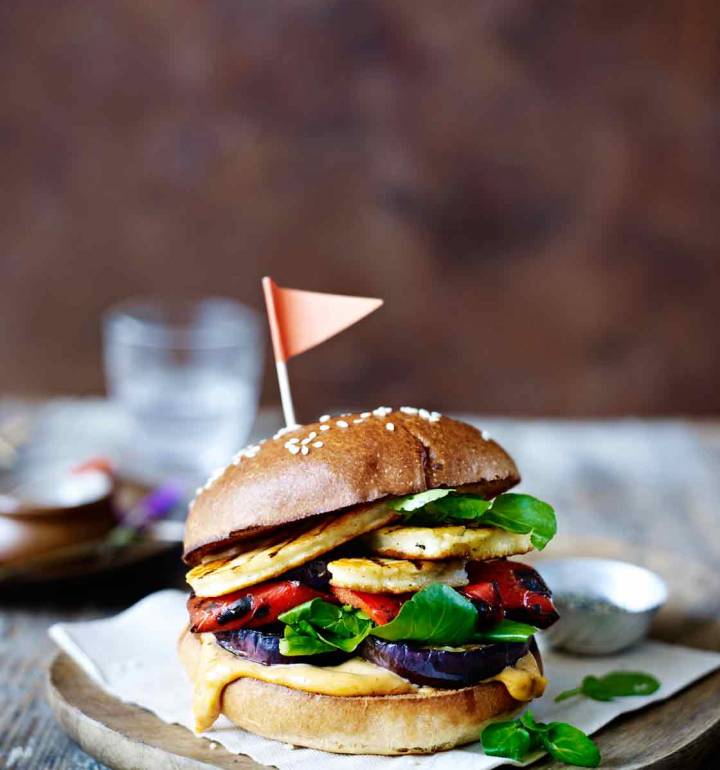 Photographed by Toby Scott
Sponsored: The ultimate veggie burger with lemon-chipotle mayo
Barbecues don't have to be meat feasts. This delicious vegetarian burger is filled with halloumi and charred vegetables, finished with Hellmann's mayonnaise
---
Prep time: 30 mins
Total time:
---
See more recipes

Tamsin Burnett-Hall
Tamsin learned the tricks of the trade from cookery legend Delia Smith. A trusted recipe writer for the magazine for over 25 years, she is now our Senior Food Producer, overseeing testing and editing to ensure that every recipe tastes great, is straightforward to follow and works without fail. In her home kitchen, Tamsin creates fuss-free flavour-packed food for friends and family, with baking being her ultimate form of comfort cooking
See more of Tamsin Burnett-Hall's recipes
Ingredients
2 red peppers
1 aubergine
2 tbsp olive oil, plus 1 tsp
1 tsp Cajun spice
6 tbsp Hellmann's mayonnaise
1 tsp spicy chipotle chilli paste
½ lemon
4 seeded burger buns
1 x 250g pack halloumi
watercress, to serve
Step by step
Mix the lemon-chipotle mayo a few hours ahead; chill.
Preheat a barbecue (or griddle pan). Quarter and deseed the peppers, and press them flat. Cook the peppers on the barbecue, skin-side down, for about 10 minutes, turning regularly until charred and soft.
Meanwhile, cut the aubergine into 8 thick slices. Drizzle 1 tablespoon oil over 1 side of the aubergine slices and rub in or brush over, then season with salt and sprinkle with half the Cajun spice. Turn the slices over and repeat with a further tablespoonful of oil and the rest of the spice.
Combine the Hellmann's mayonnaise, chipotle chilli paste and the zest of the lemon half, adding ½-1 teaspoon lemon juice, to taste.
When the peppers are ready, transfer to a plate and keep warm. Barbecue (or griddle) the aubergine slices over a medium heat for 6-8 minutes, turning regularly, until charred and soft. Transfer to a plate and keep warm. Lightly barbecue (or griddle) the cut sides of the burger buns to toast them. Cut the halloumi into 12 slices and drizzle with the rest of the oil. Barbecue (or griddle) for 1-2 minutes on each side until golden.
Spread the burger buns with the lemon-chipotle mayo, then layer up each burger bun with 2 slices of aubergine, watercress, red pepper, then the halloumi and the burger bun top.
Don't miss

---