Thai salmon fishcakes with loaded potato skins
---
Prep time: 15 mins
Total time: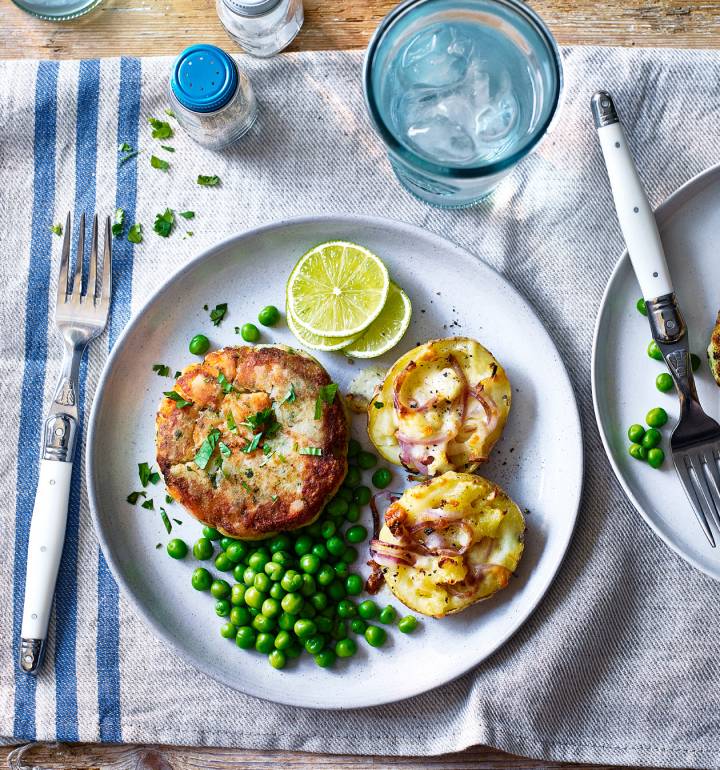 Recipe photograph by Toby Scott
Thai salmon fishcakes with loaded potato skins
The whole family will love thrifty blogger Jane Ashley's homemade Thai fishcakes and loaded potato skins
---
Prep time: 15 mins
Total time:
---
See more recipes
---
Nutritional information (per serving)
---


Ingredients
For the loaded skins
6-8 potatoes, 75g-100g each pricked all over with a fork
1 medium red onion, finely sliced
1 tsp olive oil
150g Basics mature cheddar cheese, grated
For the fish cakes
about 600g potatoes, peeled and cut into 2cm dice
3 frozen salmon fillets, defrosted
zest of 1 lime
1cm ginger, grated
1-2 tbsp chopped coriander
1 tbsp plain flour
3 tbsp vegetable oil
1 lime, cut into wedges or slices, to serve
Step by step
Preheat the oven to 200°C, fan 180°C, gas 6. Cook the potatoes for the loaded skins in the oven for about 50 minutes until soft when you squeeze them. You can start them off in a microwave to save time. Take them out, carefully slice each one in half, then let them cool a little.

Meanwhile, add the diced potatoes for the fishcakes to a pan of boiling water. Put the defrosted salmon in a steamer basket, or metal colander, and sit it directly over the pan to steam above the potatoes; put the pan lid on top of the fish. The fish will take about 10 minutes to cook, the potatoes about 15 minutes.

Remove the fish to a plate when it's ready, and leave to cool. Drain the potatoes and mash them together with the lime zest, ginger, coriander and some seasoning. Peel the skin from the fish and break the salmon into chunky flakes, then mix gently into the mashed potato. Leave to cool a little.

For the loaded skins, soften the onion in the oil for 3-4 minutes in a pan. Carefully scoop most of the flesh out of the halved potatoes into a bowl, leaving a potato shell inside the skins. Mash the potato and stir in the onions, 100g cheese and some seasoning.

Put the potato skins on a baking tray, cut-side up, and bake for 5 minutes to dry out slightly. Remove from the oven and turn on the grill. Pile the filling into the potatoes and top with the remaining cheese.

Divide the fishcake mixture into 4, roll into balls, then flatten slightly. Dust them with flour then carefully shallow fry in the oil for 3-4 minutes each side. Don't move them about too much or they will break up.

Grill the loaded skins for a few minutes until the cheese is melted and golden, and cook the peas. Serve the loaded skins and fishcakes with the peas and lime wedges or slices.
Don't miss

---