Sweet potato jackets with beetroot ratatouille
---
Prep time: 35 mins
Total time: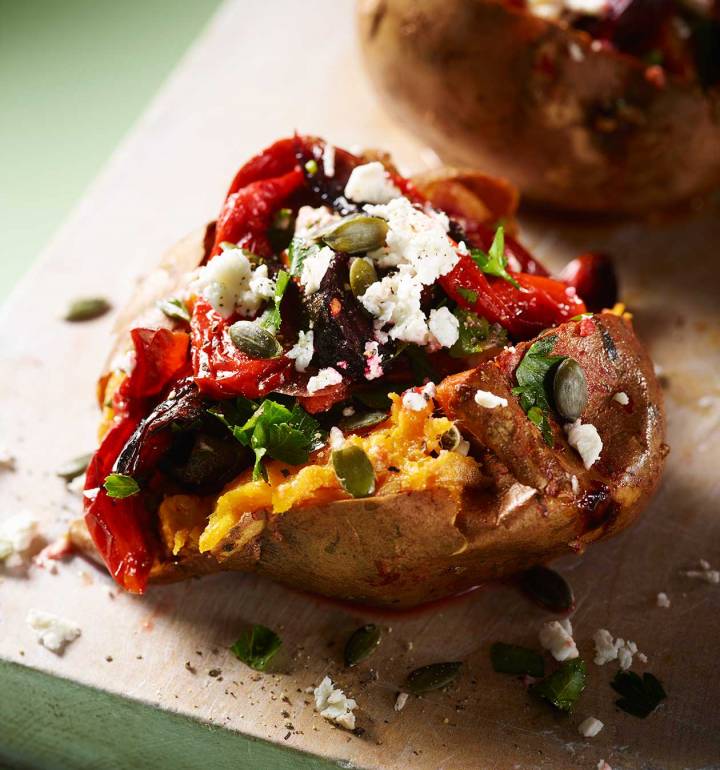 Recipe photography by Lauren Mclean
Sweet potato jackets with beetroot ratatouille
This ratatouille has a seasonal spin, using beetroot in lieu of the more summery aubergine and courgettes. Vegetable skins are an excellent source of fibre
---
Prep time: 35 mins
Total time:
---
See more recipes
---
Nutritional information (per serving)
---
Ingredients
1kg beefsteak or large tomatoes on the vine, halved
3 red peppers, deseeded and thinly sliced lengthways
1 bunch of raw beetroot, trimmed, scrubbed and cut into thin wedges
about 7 tbsp extra-virgin olive oil
2 large red onions, sliced
4 garlic cloves, thinly sliced
6 x 200g orange-fleshed sweet potatoes, ends trimmed
2 handfuls of flat-leaf parsley, coarsely chopped
180g vegetarian feta, coarsely crumbled
60g pumpkin seeds lemon wedges, to serve
Step by step
The sweet potatoes and ratatouille can both be cooked well in advance and reheated
Preheat oven to 220°C, fan 200°C, gas 7. Add the tomatoes to a roasting tin in a close-fitting single layer, and the peppers and beetroot in another large roasting tin; they will shrink as they cook. Drizzle 2 tablespoons of oil over the tomatoes, 4 tablespoons over the other veg and season.
Roast both for 1- 11⁄4 hours, stirring the onions and garlic into the peppers and beetroot after the first 30 minutes. Gently stir or turn 15 minutes later, and continue to roast until well-coloured. Lightly coat the potatoes in oil and roast on a lined tray for 45-60 minutes until softened. Leave the veg to cool if not serving straight away.
Coarsely chop the tomatoes in the roasting tin. Combine the two roasting tins of vegetables and fold in the parsley.
To serve, reheat the potatoes and ratatouille if necessary. Cut the hot potatoes open and fill with the ratatouille. Scatter with feta and pumpkin seeds, and serve with lemon wedges.
Don't miss

---