Steak and ale pie
---
Prep time: 1 hr 10 mins
Total time: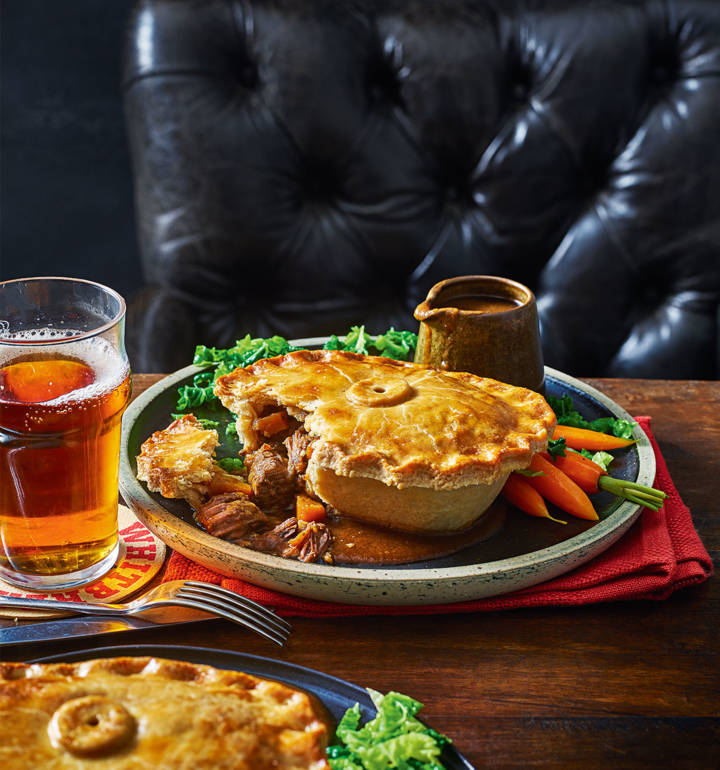 Recipe photograph by Stuart West
Steak and ale pie
As autumn sets in, the pie of the day is an essential on any pub menu. This steak and ale pie recipe is a labour of love but, believe me, it is worth it. The filling is cooked the day before and left overnight for the flavour to develop. The pastry is made with beef dripping, which makes it not only full of flavour but also perfectly crisp and melt-in-the-mouth. Serve with cabbage and carrots
---
Prep time: 1 hr 10 mins
Total time:
---
See more recipes
---
Nutritional information (per serving)
---

Thomas Frake
Thomas, 34, won MasterChef 2020 with his modern take on British classics and proper pub grub. His winning menu included monkfish, scampi, ox cheek and salted caramel tart.
See more of Thomas Frake's recipes

Thomas Frake
Thomas, 34, won MasterChef 2020 with his modern take on British classics and proper pub grub. His winning menu included monkfish, scampi, ox cheek and salted caramel tart.
See more of Thomas Frake's recipes
Ingredients
750g strong white flour, plus extra to dust
175g cold beef dripping, cubed
175g cold unsalted butter, cubed, plus extra to grease
2 medium egg yolks, to glaze
For the filling
1kg diced beef
3 tbsp plain flour
4-5 tbsp rapeseed oil
4 large carrots, roughly chopped
1 large onion, diced
2 celery sticks, roughly chopped
2 garlic cloves
1 tbsp tomato purée
1 tbsp malt vinegar
1 tbsp yeast extract or Marmite
1 tbsp Worcestershire sauce
2 bay leaves
500ml Taste the Difference London Porter (or dark ale)
500ml beef stock
Step by step
For the filing, toss the beef in 2 tablespoons of well-seasoned flour. Over a medium high heat, heat 2 tablespoons of rapeseed oil in a large flameproof casserole and brown the beef in batches, making sure the pan isn't overcrowded. Remove to a bowl, add more oil to the pan as needed and repeat the process until all the beef is browned.
Pulse 1 of the carrots, the onion, celery and garlic in a food processor, with 2 tablespoons of rapeseed oil and a pinch of salt, to form a coarse paste called a sofrito. Add the sofrito to the casserole and cook on a low heat for 10-15 minutes until translucent but not brown. Stir in the remaining tablespoon of flour and cook out for a minute or so. Add the rest of the carrots, the cooked beef, resting juices, tomato purée, vinegar, yeast extract, Worcestershire sauce, and bay leaves to the pan and stir well. Now add the porter beer and beef stock, season generously with black pepper and a pinch of salt and bring to a simmer. Cover well with foil and the lid and simmer gently for 3-4 hours, or until the beef is meltingly tender (alternatively, cook in a slow cooker for 8 hours on Low but reduce the liquid quantity to 350ml each of stock and porter).
Tip the stew into a colander set over a bowl and reserve about half of the liquid to use as a serving gravy. Leave the rest of the sauce and beef to cool for the filling, then chill overnight to allow the flavour to develop.
For the pastry, combine the flour, dripping, butter and salt in a food processor and pulse until it resembles breadcrumbs. This can also be done by hand. Then slowly incorporate 125ml-150ml cold water until the mixture comes together as a smooth dough. Do not overwork. Wrap and chill for 30 minutes.
Roll out the pastry on a floured surface to about 4mm thick. Grease 6 individual pie moulds with butter (ours measured 16cm x 12cm x 3.5cm). Cut 6 pieces large enough to line the moulds with a 1cm overhang. Divide the chilled pie filling equally among the lined moulds and brush the rims with water. Cut 6 lids from the rest of the pastry (re-roll trimmings if needed), press onto the pies then trim off the excess and crimp the border. Cut out 4 pound-coin-size discs of pastry, brush the underside with water and press onto the centre of the pie lid. Using a chopstick or knife, make a small hole through the pastry disc to allow the steam to escape. Beat the egg yolks with a splash of water and pinch of salt. Brush onto the pie lids and chill for 10 minutes. Brush with egg wash again and chill until needed. The pies can be assembled up to 2 days before baking, or frozen (defrost completely before baking).
Preheat the oven to 200°C, fan 180°C, gas 6. Bake the pies for 30-45 minutes, or until the pastry is deep golden brown and crisp. Allow to rest for 10 minutes before serving. Gently reheat the extra gravy, adding a splash of water if needed.
Turn out and plate the pies and serve with seasonal veg such as cabbage and carrots, with the extra gravy to pour over.
Don't miss

---