Sponsored: Potato Smile cheeseburger sliders
---
Prep time: 30 min
Total time: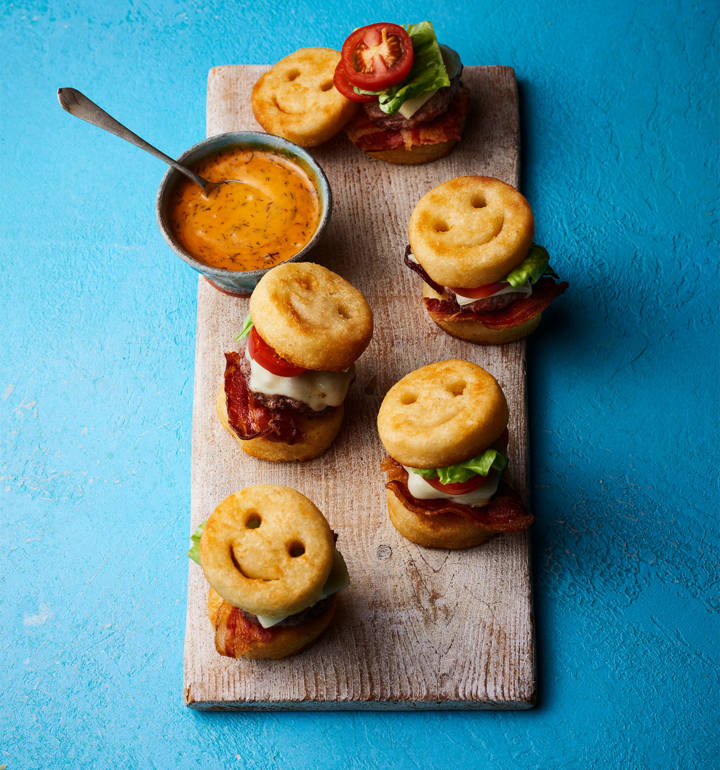 Recipe photograph by Liam Desbois
Sponsored: Potato Smile cheeseburger sliders
---
Prep time: 30 min
Total time:
---
See more recipes
Ingredients
12 McCain Potato Smiles
1 x 350g pack of 12 beef meatballs (5% fat)
6 slices streaky bacon
3 slices Red Leicester cheese, or similar
To serve
about 12 cornichons, plus 1 tsp pickle vinegar from the jar
3 tbsp mayonnaise
2 tbsp tomato ketchup
Optional extras
Handful of salad leaves
Thinly sliced onion
Sliced tomato
Step by step
Preheat the air fryer to 200°C. Add the McCain Potato Smiles to the air fryer basket and cook for 8-12 minutes until golden brown and really crisp, shaking halfway through.
Meanwhile, for each mini burger squash 2 meatballs together and then press flat to about 7cm across, using your thumb to make a slight dip in the top to stop them becoming too rounded.
Tip the Potato Smiles out to a dish and keep warm. Add the mini burgers to the air fryer and drape the bacon rashers over the burgers. Remove the bacon when it is crisp (after 4-5 minutes) then cook the burgers for another 3-4 minutes until cooked through. Snip the bacon rashers in half.
Finely dice 3 of the cornichons and slice the rest in half lengthways. Combine the diced cornichons with the mayonnaise, ketchup and pickle vinegar to make a dipping sauce.
Cut the cheese slices into 4 squares each then lay 2 squares on top of each burger in the air fryer and cook for about 1 minute until just starting to melt.
Build your own burger slider using 2 Potato Smiles as the 'bun', adding the cheeseburger, crispy bacon and cornichons, tucking in a few salad leaves. sliced onion or tomato if you wish. Serve with the burger dipping sauce.
Don't miss

---