Spiced vegetable 'pot noodles'
Serves
4
|
prep
1 hr 10 mins
|
total time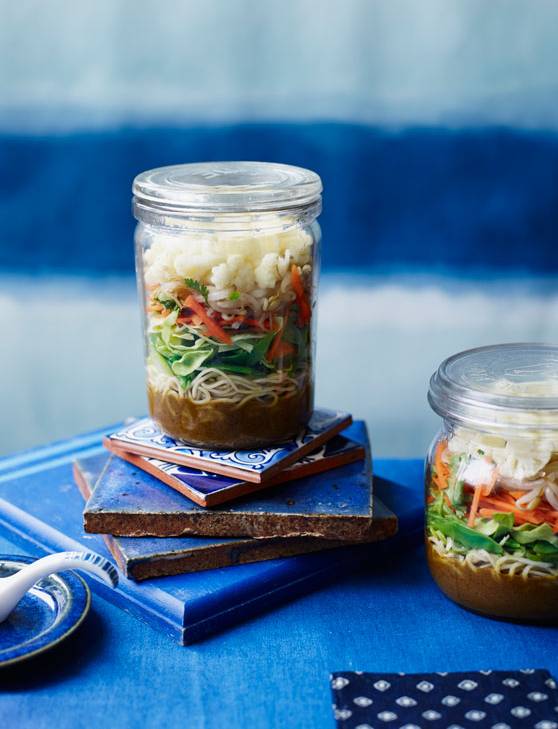 Nutritional information (per serving)
See more
Ingredients
For the sauce
3 tbsp sunflower oil

2 medium onions, finely diced

2 tsp peeled and finely chopped ginger

2 fat garlic cloves, finely chopped

1 bird eye chilli, finely sliced

2 tbsp mild curry powder

2 tbsp tamarind paste

250ml coconut cream

2 tbsp light brown muscovado sugar
For the soup
1 nest fine egg noodles

2 tbsp toasted sesame oil

8 spring onions, trimmed and finely sliced

1 bird eye chilli, finely sliced

1 x 200g pack mangetout

½ small cauliflower, cut into small florets

200g beansprouts

150g green cabbage, shredded

1 large carrot, peeled

a handful of coriander leaves, ripped
Get ahead
The sauce freezes well, so you can divide it into single portions and freeze if you don't need it all in one go. Assemble the pot noodles up to the end of step 7 a day ahead, cool then chill.
Set a medium saucepan over a medium-low heat. Once hot, add the sunflower oil, followed by the onion, ginger, garlic and chilli. Fry gently, stirring often, for 10-15 minutes, or until the onions are soft and golden. Stir in the curry powder and cook for a further 5 minutes, then add the tamarind paste, coconut cream and sugar and cook for 10 minutes more. Season generously. Leave to cool.
Drop the noodles into a pan of boiling water and simmer for 3 minutes. Tip into a colander and cool under cold running water. Shake dry and place in a bowl. Mix in the sesame oil and the sliced spring onions and chilli.
Bring a saucepan of water to a rolling boil. Top and tail the mangetout, drop them into the boiling water; cook for 30 seconds, then remove with a slotted spoon and cool under cold running water in a colander. Pat dry on kitchen paper and finely slice into strips.

Tip We've used 750ml Kilner-style jars but you can, of course, serve the noodles in bowls.

Return the water to the boil and add the small cauliflower florets. Cook for 3 minutes or until tender, then remove with a slotted spoon to the colander; cool with cold running water and pat dry.
Return the water to the boil and add the beansprouts. Cook for 30 seconds then drain into the colander, cool and dry as above.
Finely slice the cabbage and cut the carrot into fine matchsticks. Mix the carrot with the coriander leaves. You are now ready to assemble your pot noodles, adding a quarter of each ingredient to 4 x 750ml Kilner-style jars.
Pour a quarter of the spiced coconut sauce into the bottom of each jar. Using your fingers, gently add the noodles, followed by the mangetout, green cabbage, carrots, beansprouts and cauliflower.
Remove the jars from the fridge half an hour before serving to bring back up to room temperature. To finish, pour about 300ml boiling water into each jar. Stir thoroughly to dissolve the coconut sauce and allow to sit for 5 minutes before serving. Season to taste.