Smoked haddock and leek risotto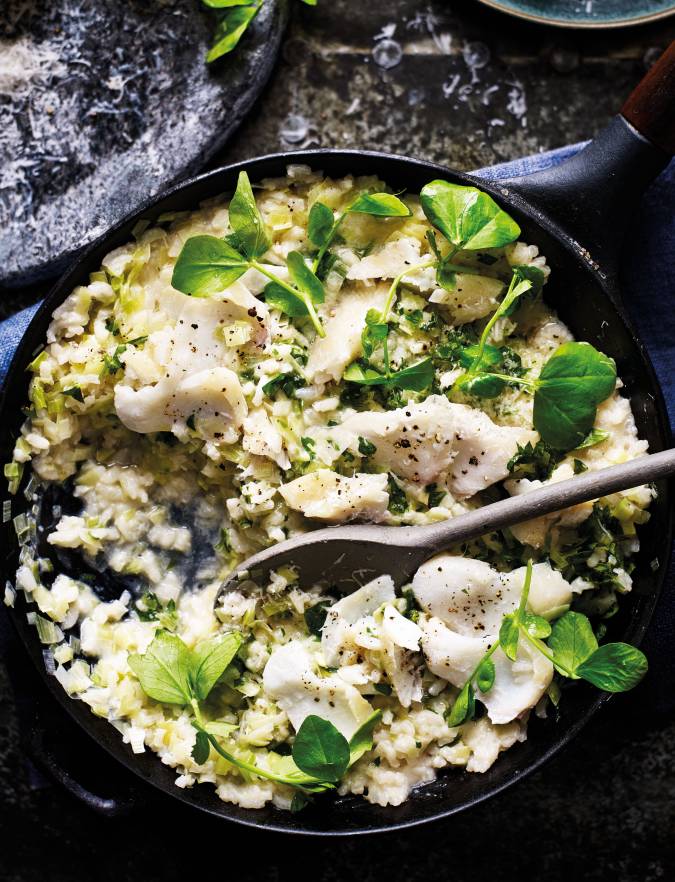 Nutritional information (per serving)
See more
Ingredients
a knob of butter

1 leek

1 large garlic clove

150g risotto rice

125ml white wine (optional)

725ml hot chicken stock

250g undyed smoked haddock

25g Parmesan, finely grated

1 x 50g bag pea shoots

juice of 1 lemon
Melt the butter in a deep frying pan. Finely chop the leek and garlic and add them to the pan. Cover and cook over a low heat for 8 minutes or until very soft.
Uncover and add the rice; cook, stirring, for 2 minutes. Increase the heat, add the wine, if using, and bubble until absorbed (if not using, increase the stock by 100ml). Add a ladleful of stock and stir until absorbed; repeat until you've added all the stock.
Meanwhile, put the haddock in a pan with just enough water to cover it. Cover and bring to the boil over a medium heat, then reduce the heat; simmer for 4-5 minutes until cooked through. Remove from the heat, drain, then flake the fish into large pieces, discarding the skin.
When the rice is al dente, remove from the heat and stir in half the Parmesan. Roughly chop the pea shoots (reserving a few) and add to the rice, then stir in the haddock. Add lemon juice and seasoning to taste. Cover and set aside for 1 minute.
Serve with the remaining Parmesan and pea shoots.