Sausage tray-roast with balsamic glaze from Taste the Difference
---
Prep time: 50 mins
Total time: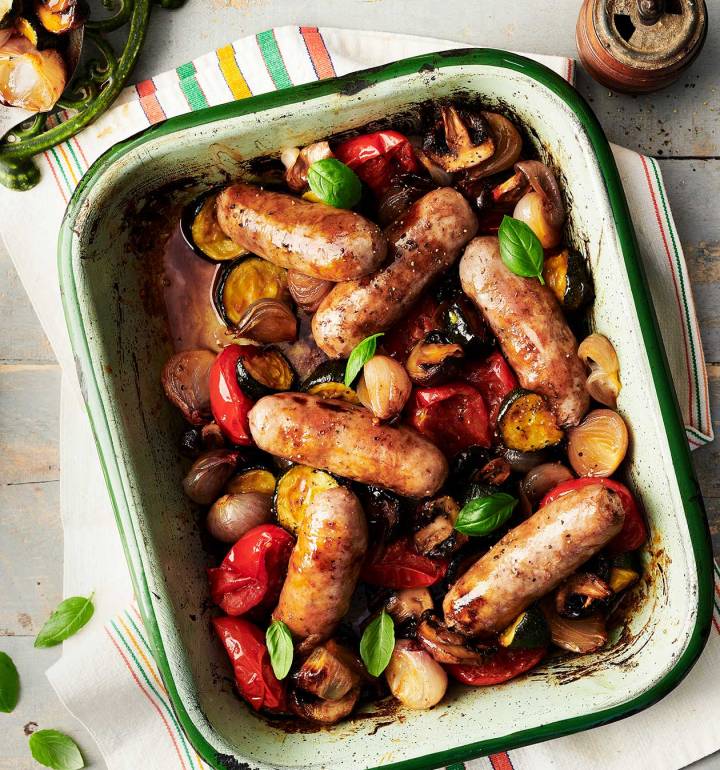 Sausage tray-roast with balsamic glaze from Taste the Difference
This comforting dish is the perfect antidote to a cold, rainy day
---
Prep time: 50 mins
Total time:
---
See more recipes
Ingredients
1 x 400g pack Taste the Difference Pork Sausages
300g shallots, peeled and halved (or quartered, if large)
2 garlic cloves, sliced
2 courgettes, trimmed and cut into small chunks
11⁄2 tbsp olive oil
300g closed cup chestnut mushrooms, wiped clean and halved
6 plum tomatoes, halved
2 tbsp balsamic vinegar
1⁄2 tsp Dijon mustard
2 tbsp runny honey
basil leaves, to garnish
Step by step
Preheat the oven to 200°C, fan 180°C, gas 6. Place the sausages, shallots, garlic, courgettes and oil in a large, shallow roasting tin and toss gently. Roast for 10 minutes, turning halfway.
Add the mushrooms and tomatoes to the roasting tin and turn to coat in the pan juices. Roast for a further 10 minutes.
Mix together the balsamic vinegar, mustard and honey in a small bowl and drizzle over the sausages and vegetables. Season with salt and freshly ground black pepper.
Increase the oven temperature to 220°C, fan 200°C, gas 7. Roast for a further 10-15 minutes until the sausages are golden brown and the vegetables are tender. Scatter over the basil leaves and serve straight from the roasting tin.
Don't miss

---