Roasted beetroot dhal with homemade coriander chutney
---
Prep time: 50 mins
Total time: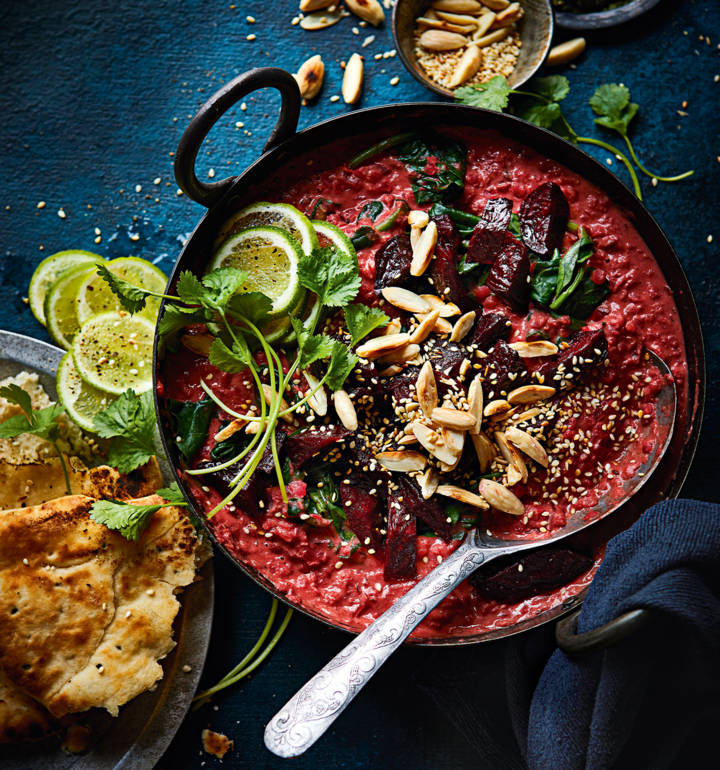 Recipe photograph by Maja Smend
Roasted beetroot dhal with homemade coriander chutney
The bright colours of the pink beetroot dhal and green coriander chutney look incredible together, with toasted almonds and sesame seeds adding a nice crunch. Make extra coriander chutney and keep it in a jar in the fridge to use throughout the week; stored well it should last a few extra days
---
Prep time: 50 mins
Total time:
---
See more recipes
---
Nutritional information (per serving)
---
Ingredients
For the dhal
450g raw beetroot, peeled and cut into bite-size chunks
3 tbsp olive oil
pinch of chilli powder
1 large onion, chopped
3 garlic cloves, chopped
1 tsp cumin seeds
1 tsp ground coriander
½ tsp ground cinnamon
1 tsp paprika
200g dried red lentils
1 x 400g tin coconut milk
300ml unsweetened almond milk, plus extra if needed
1 tbsp tahini, stirred
25g root ginger, peeled
juice of 1 lime
100g young spinach
50g unsweetened dairy-free coconut yogurt
For the coriander chutney
100g unsalted cashews
1 x 30g pack coriander
a handful of mint leaves
15g root ginger, roughly chopped
100ml almond milk
zest and juice of ½ lime
To serve
40g toasted blanched almonds, sliced in half
1 tbsp sesame seeds, toasted
cooked brown rice or naan bread, optional
Step by step
The dhal and leftover chutney keep well in the fridge for 4 days.
Preheat the oven to 200°C, fan 180°C, gas 6.
Put the cashews in a small heatproof bowl; cover with boiling water. Leave to soak for at least 15 minutes to soften then drain.
Put the beetroot chunks on a baking tray and drizzle with 2 tablespoons of olive oil, a pinch of chilli powder and seasoning. Toss to coat and roast for 30-35 minutes or until the beetroot is tender.
For the chutney, place half the coriander and the rest of the chutney ingredients (including the drained cashews) into a powerful blender and blend until very smooth and creamy. Add the rest of the coriander and pulse a few times to mix through but still keep a little texture. Season to taste, spoon into a bowl, cover and chill.
Meanwhile, heat 1 tablespoon of olive oil in a large pan over a medium heat. Add the onion, garlic and a pinch of salt. Mix well and cook for 5 minutes until the onion starts to soften.
Add the spices and cook for about 30 seconds before adding the red lentils, coconut milk and 200ml of the almond milk. Mix well and leave to simmer for 15-20 minutes, mixing every so often and adding a dash more almond milk if the mixture ever begins to dry up.
Once the beetroot is cooked, remove from the oven and leave to cool a little. Place 100g of the cooked beetroot into a powerful blender, along with the tahini, the remaining 100ml almond milk and the ginger. Blend until you have a smooth and creamy purée.
Once the lentils are tender, stir through the blended beetroot, lime juice and spinach. Allow the spinach to wilt before mixing through the coconut yogurt. Season to taste.
Serve the dhal topped with the rest of the roasted beetroot and scatter over the toasted almonds and sesame seeds. Enjoy with brown rice or naan bread, and the coriander chutney on the side.
Don't miss

---