Hariyali guinea fowl with roasted onions
---
Prep time: 15 mins
Total time: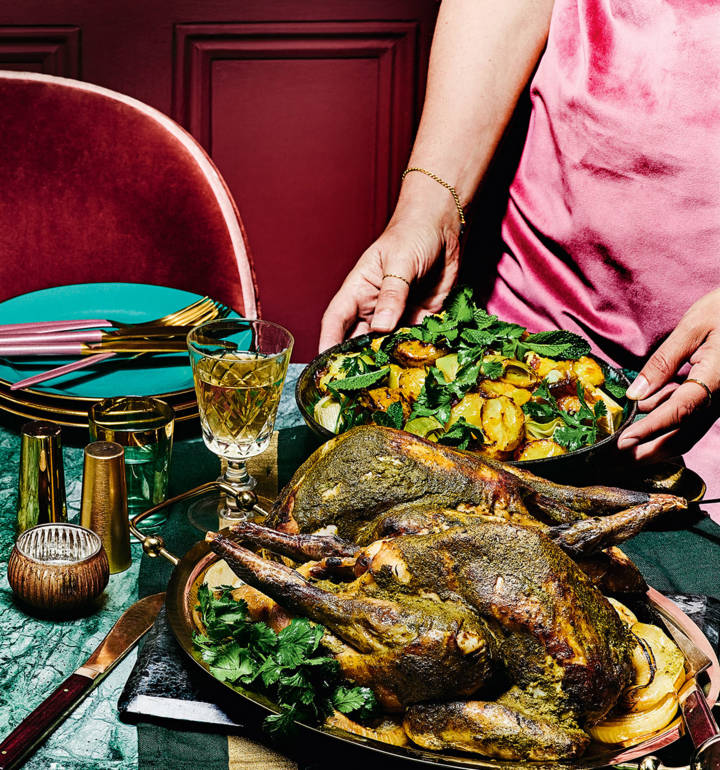 Recipe photograph by Martin Poole
Hariyali guinea fowl with roasted onions
Hariyali chicken is a popular Punjabi dish of chicken coated in a vibrant, herb-rich green sauce, hariyali meaning 'greenness' in Punjabi. You can use small chickens here too, but guinea fowl adds an extra level of flavour
---
Prep time: 15 mins
Total time:
---
See more recipes
---
Nutritional information (per serving)
---
Ingredients
2 guinea fowl (about 1kg each)
2 large onions
For the marinade
1 x 30g pack mint
1 x 30g pack coriander
2 tbsp ginger paste
1 tbsp garlic paste
2 green finger chillies
1 heaped tsp garam masala
1 tsp ground cumin
1 tsp ground coriander
2 tbsp vegetable oil
1 tsp fine sea salt
300g natural yogurt
juice of 1 large lime
Step by step
Marinate the guinea fowl up to 48 hours ahead, or at least 4 hours before cooking.
Put all the marinade ingredients into a food processor or blender (herb stalks and all). Blitz until smooth, vibrant and green. Chill until you're ready to use.
To prep the guinea fowl, use a sharp knife to score the legs and breast meat twice. The aim here isn't to cut through to the bone, but to allow the marinade to impart as much flavour to the flesh as possible. Put the guinea fowl into a large dish and pour over the marinade. Make time to really work the marinade into the scores in the meat. You should ideally do this 48 hours before you're ready to cook, but the night before is equally good. If you only have time to do it on the same day, don't worry – it will still be delicious!
Preheat the oven to 200°C, fan 180°C, gas 6. Peel the onions, cut into 1cm-thick slices and pop into the bottom of a roasting dish. Sit the birds on top of the onions and pour in any additional marinade. Roast for 15 minutes, then turn the oven down to 190°C, fan 170°C, gas 5 and roast for a further 50 minutes until cooked through. Remove from the oven and leave to rest for 5 minutes. Transfer the onions to a serving dish and place the guinea fowl on top, or alternatively joint the guinea fowl before you take it to the table.
Don't miss

---