Colman's herb and mustard crusted roast beef
---
Prep time: 30 mins
Total time: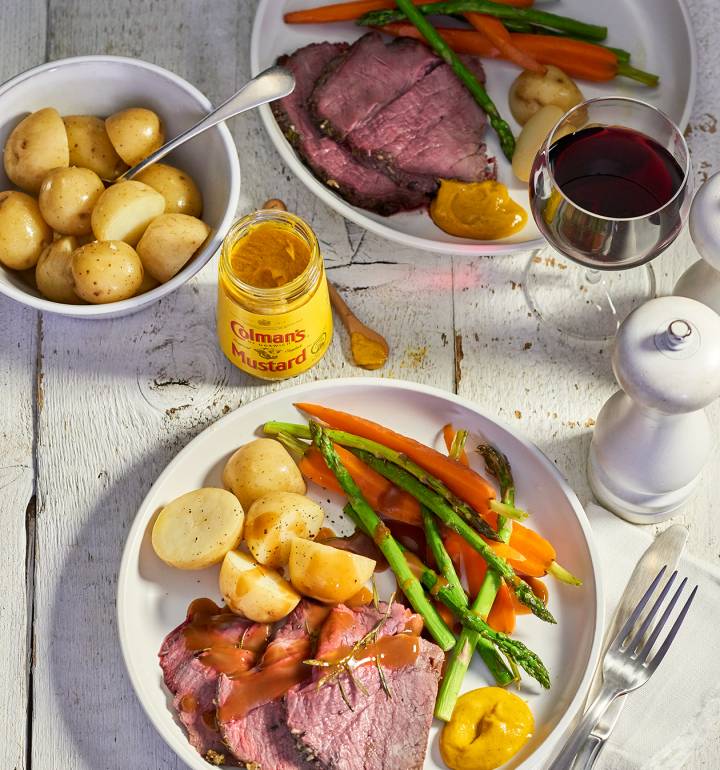 Recipe photograph by Clare Miller
Colman's herb and mustard crusted roast beef
Try this delicious classic roast beef with a hit of Colman's mustard
---
Prep time: 30 mins
Total time:
---
See more recipes
Ingredients
1.5kg beef topside roasting joint
1 tbsp Colman's English mustard powder
½ tsp coarsely ground black pepper
1 garlic clove, crushed
2 tbsp freshly chopped thyme leaves
2 tbsp freshly chopped rosemary leaves
1 tbsp olive oil
150ml red wine
300ml hot beef or vegetable stock
buttered new potatoes, steamed carrots, roast asparagus and Colman's English mustard, to serve
Step by step
Remove the joint from the fridge at least 30 minutes before roasting and pat dry with kitchen paper. Preheat the oven to 220°C, fan 200°C, gas 7. Mix the mustard powder, pepper, garlic and herbs together in a small bowl.
Place the joint in a roasting tin and sprinkle over the mustard mixture. Drizzle over the oil. Roast for 10 minutes then reduce the oven temperature to 180°C, fan 160°C, gas 4. Roast for a further 55 minutes – 1 hour 10 minutes for rare to medium–rare. Cover the joint loosely with foil after 45 minutes to prevent the mustard-and-herb crust burning.
Transfer the cooked joint to a warmed platter, cover loosely with foil and leave to rest in a warm place for 30 minutes.
To make the gravy, place the roasting tin over a medium-high heat. When the pan juices start to sizzle, gradually stir in the wine. Bring to the boil, stirring and scraping any sediment from the base of the tin. Add the stock and simmer for a further 3-4 minutes, stirring, until slightly reduced and thickened. Season to taste.
Slice the beef and serve with the potatoes, carrots, asparagus, gravy and a dollop of Colman's English mustard.
Don't miss

---