Beer-battered tofu tacos with a chipotle cashew 'soured cream'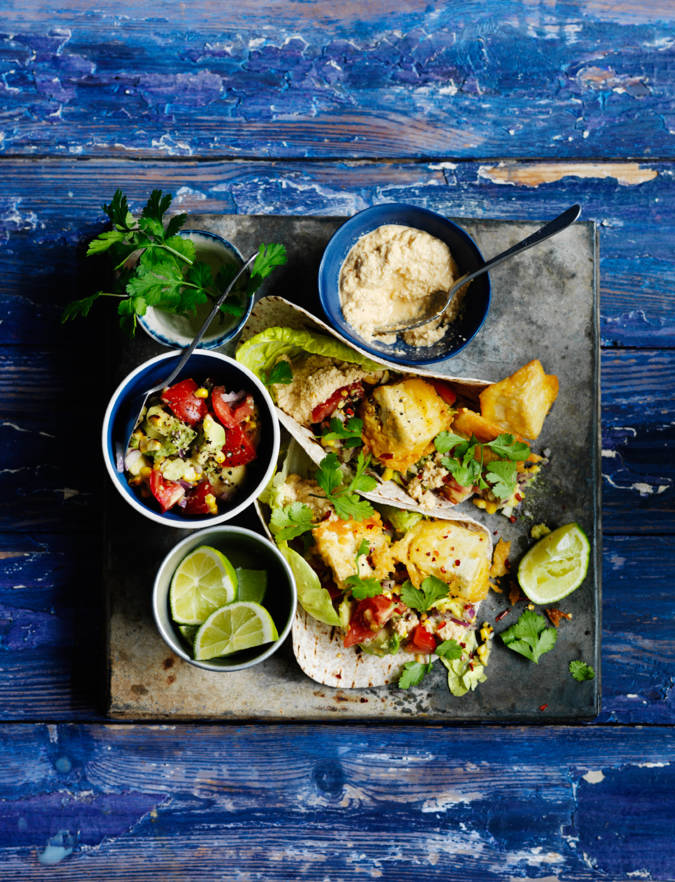 Nutritional information (per serving)
See more
Ingredients
For the chipotle soured cream
1 x 100g pack cashew kernels

juice of ½ lime

1 tsp cider vinegar

1 tsp spicy chipotle chilli paste
For the guacamole
1 corn on the cob

1 tsp coconut oil or other oil, to brush

3 plum tomatoes

sea salt

1⁄2 red onion, finely chopped

2 avocados, stoned

juice of ½ lime
For the tofu
1 x 396g pack firm tofu (we used Original Cauldron)

¼ tsp smoked paprika

100g gram flour

2 tsp cornflour

1 tsp baking powder

pinch of cayenne pepper

150ml Mexican-style beer, such as Desperados or Corona

150ml sunflower, rapeseed or olive oil, for frying
To serve
1 x 10 pack mini tortilla wraps

1 Little Gem lettuce, shredded

a handful of fresh coriander

crushed dried chilli flakes, to sprinkle

lime wedges
Get ahead
Soak the cashews overnight; the chipotle cashew soured cream will keep for up to 3 days in the fridge.
Soak the cashews overnight in cold water. If you haven't remembered to do this, cover them with boiling water and soak for 4 hours. Drain, rinse and add to a blender with 4 tablespoons water, the lime juice, cider vinegar, chipotle paste and 1⁄2 teaspoon salt. Blend until smooth, scraping down the sides from time to time. Check for seasoning, adding more salt or lime, if needed. Put in a bowl in the fridge.
Heat a griddle pan (medium heat is best) and brush the corn with coconut oil. Griddle the corn for 8-10 minutes, turning regularly until slightly charred. Carefully remove the kernels by standing the cob firmly on a chopping board and running a sharp knife downwards. Keep the griddle pan warm for the tortillas.
Dice the tomatoes and add to a large bowl. Season with sea salt before adding the corn kernels and red onion. Roughly mash the avocados and add to the bowl along with the lime juice and a touch more salt. Stir to combine and then refrigerate until needed.
Drain and rinse the tofu then cut into 20 chunky pieces and pat dry on kitchen paper. Season with salt and dust with the paprika.
Sift the flours, baking powder and cayenne into a bowl. Make a well in the centre and whisk in the beer to make a smooth batter. Heat about 150ml oil (depending on the size of your pan) in a large deep frying pan. A medium heat works best. Drop a teaspoon of batter into the pan to check if it's ready, before coating the tofu. If it turns golden and crisp within a minute, it's good to go.
Dunk the tofu into the batter and add to the pan one at a time; without overcrowding the pan. You'll need to cook them in batches. Cook for 1 minute each side until golden and crisp, flipping them over with a spatula or tongs. Remove from the pan, drain on a plate with kitchen paper and season with salt. Keep warm while you cook the remaining tofu.
Heat the tortillas on the preheated griddle pan for 20-30 seconds each side and keep them warm under a clean tea towel.
To assemble the tacos, spread some guacamole onto a tortilla then add lettuce, a couple of pieces of tofu and the chipotle soured cream. Tear some coriander and sprinkle on top, along with some chilli flakes. Squeeze over a little lime juice and serve.
Okay, they're not exactly healthy, but they're crispy – and are just the thing to win over any tofu-hating friends. Firm tofu is an absolute essential here, but there's really no need to press it – simply pat dry with a kitchen towel and dunk in the batter.