Apple, pear and Stilton soup with chorizo and croutons
---
Prep time: 30 minutes
Total time: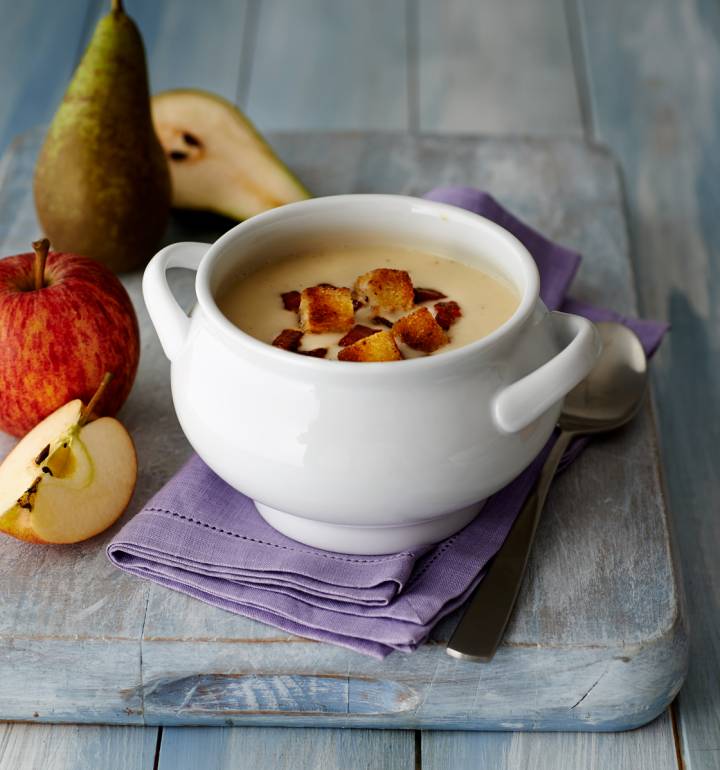 Apple, pear and Stilton soup with chorizo and croutons
---
Prep time: 30 minutes
Total time:
---
See more recipes
Ingredients
3 tbsp oil
75g chorizo, diced
50 stale white bread, cut into 2cm wide cubes
1 onion, finely chopped
300g parsnips, peeled and chopped
2 cloves garlic, crushed
2 Royal Gala apples by Sainsbury's, peeled, cored and diced
2 Conference pears by Sainsbury's, peeled, cored and diced
800ml chicken stock
60g blue Stilton
Step by step
Heat 1 tbsp of the oil in a large frying pan and cook the chorizo for 3 minutes until crisp. Remove from the pan and keep warm.
Add the bread cubes to the pan and coat in the chorizo oil. Cook for 3-4 minutes then turn over and cook on the other side for a further minute. Remove from the heat and cool.
Heat the remaining oil in a saucepan and add the onion and parsnips. Cook for 10 minutes until softened.
Add the garlic, apples and pears and cook for a further 5 minutes.

Add the chicken stock, stir and bring to the boil, then reduce the heat and simmer for 20 minutes until the parsnips are tender. Remove from the heat and season.

Blend the mixture along with the stilton in a food processor until smooth. Ladle into bowls and top with the cooked chorizo and croutons to serve.
Don't miss

---