Sponsored: Florida Grapefruit & marmalade Victoria sponge
---
Prep time: 20
Total time: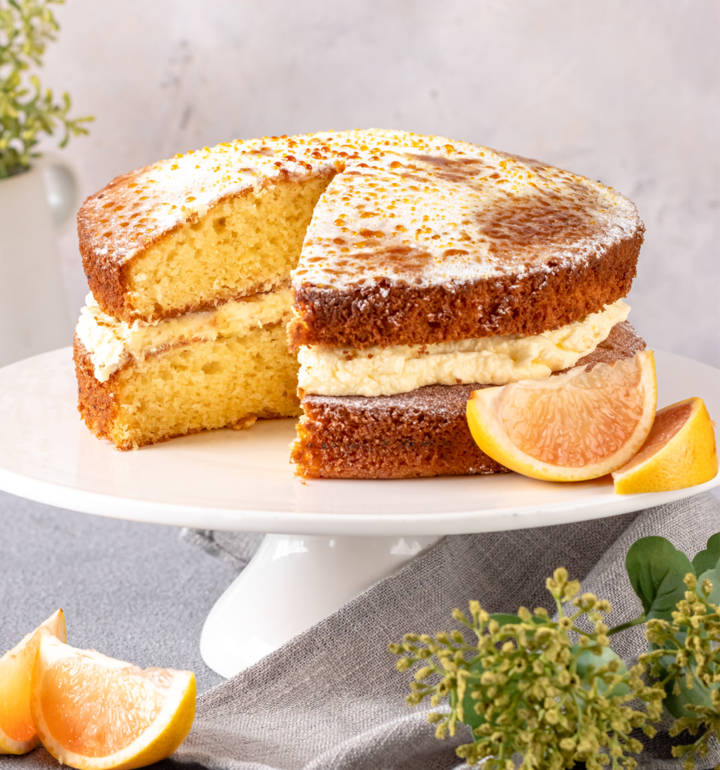 Sponsored: Florida Grapefruit & marmalade Victoria sponge
---
Prep time: 20
Total time:
---
See more recipes
Ingredients
350g softened butter
250g caster sugar
1 tsp vanilla extract
4 medium free-range eggs
3 Florida Grapefruit
250g self-raising flour
4 tbsp grapefruit marmalade
200g icing sugar, plus extra to dust
Step by step
Place 250g butter and the caster sugar into a large mixing bowl and beat together until light and fluffy.

Add the vanilla extract and then the eggs, one at a time. It's important to fully mix each egg in before adding the next one.

Zest the Florida Grapefruit fully into the cake mixture before sieving the flour into the bowl.

Using a metal spoon, fold the ingredients together to make a cake batter.

Divide the mixture equally between 2 x 20cm sandwich cake tins and bake in a pre-heated oven at 190°C, fan 170°C, gas 5 for 20-25 minutes or until fully baked and golden.

When the cakes are ready, remove from the oven and leave to cool for 10 minutes in the tin before transferring to a cooling rack.

To make the marmalade glaze, heat the marmalade in a pan with enough freshly squeezed Florida Grapefruit juice to create a tasty glaze.

Beat together the remaining butter and icing sugar to make a butter icing.

To ice the cake, place the butter icing on the bottom layer, then drizzle with the marmalade glaze.

Top with the remaining cake and dust with a little extra icing sugar. Use a blowtorch to caramelise the top for a little crunch.
Don't miss

---