Cauliflower rice and coconut kedgeree
---
Prep time: 35 mins
Total time: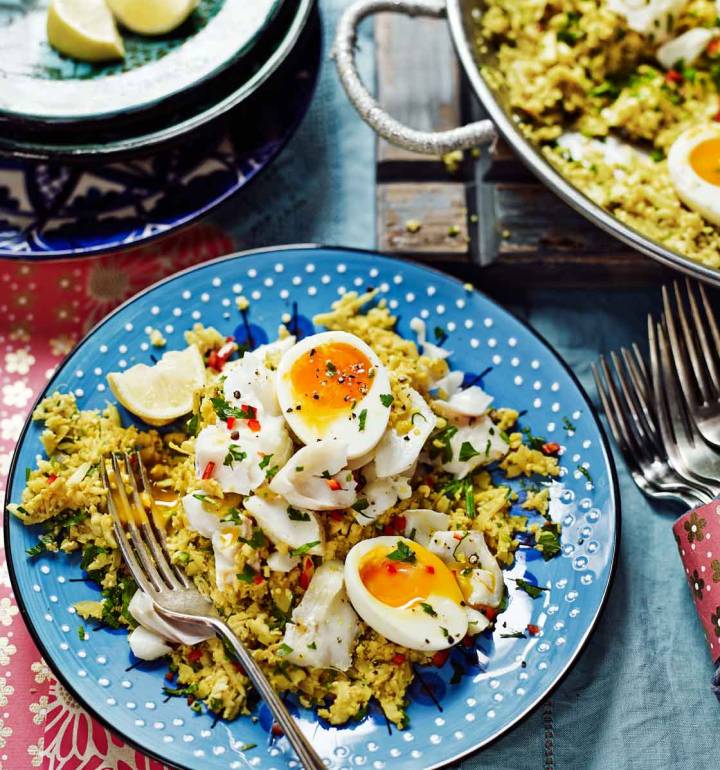 Photograph by Martin Poole
Cauliflower rice and coconut kedgeree
---
Prep time: 35 mins
Total time:
---
See more recipes
---
Nutritional information (per serving)
---


Ingredients
800g undyed smoked haddock fillets or cooked smoked mackerel or hot smoked salmon
250ml coconut milk
2 tbsp coconut oil or butter
2 medium onions, finely chopped
2 medium cauliflowers, outer leaves removed
4 garlic cloves, finely chopped
2cm piece of fresh ginger, peeled and finely grated or chopped
2 red chillies, deseeded and finely chopped
1 x 28g pack parsley – stalks and leaves separated and both finely chopped
8 medium eggs (we use organic)
2 lemons
sea salt
For the spice mix
1 tbsp yellow mustard seeds
1 tsp ground turmeric
1½ tsp ground cumin
1 tsp ground coriander
½ tsp ground fenugreek
3 cardamom pods, split open
1 cinnamon stick
Step by step
Make the spice mix up to 
2 days ahead; store in a jar. Make up to 
the end of step 5 the day before (but don't cook the fish). Chill, then reheat before continuing with the recipe.
If using smoked haddock, poach it in the coconut milk, covered, for 5-10 minutes until just cooked. Remove from the heat; strain the milk and reserve.
Toast all the spices for the spice mix in a large frying pan for 30 seconds until fragrant, then crush using a pestle and mortar, or whiz in a spice grinder, and set aside. Add the coconut oil or butter to the pan and fry the onion over medium-low heat for 8 minutes until softened.
While the onions are frying, roughly grate the cauliflower (use a food processor or a cheese grater) to form 'grains'.
When the onions have softened, add the toasted spices, garlic, ginger, 1 chilli and 
the parsley stalks and fry together for another minute.
Add the cauliflower and stir in the reserved coconut milk. Cook, partially covered, for about 5-6 minutes, until the cauliflower is just tender and still has a little bite.
To soft-boil the eggs, put them in a medium pan, cover with cold water and bring to 
the boil. Simmer for 5 minutes, then refresh for 1-2 minutes in cold water until they're cool enough to handle but still warm; then peel and halve them.
Add the juice of ½ lemon to the cauliflower rice, stir through most of the parsley leaves and season to taste.
Flake the fish and stir through the cauliflower rice. Top with the halved soft boiled eggs, season with a little sea salt and freshly ground black pepper. Garnish with the remaining parsley and chopped chilli, and slice the remaining lemon half and lemon into wedges and serve on the side.
Fish or curry for breakfast might not be everyone's cup of tea but they work together perfectly in this simple classic to feed a crowd. We used to love our mum's kedgeree for a family-style breakfast when we were growing up. We've since put our own spin on this dish using coconut milk, which is delicious with the Indian spices and adds creaminess, too. Using "grains" of cauliflower instead of rice means it
cooks in half the time and you've sneaked in an
extra portion of vegetables (a pat on the back at breakfast time), leaving you feeling lighter than you might after a rice-heavy brunch.
Don't miss

---