The ultimate hot chocolate
---
Prep time: 10 mins
Total time: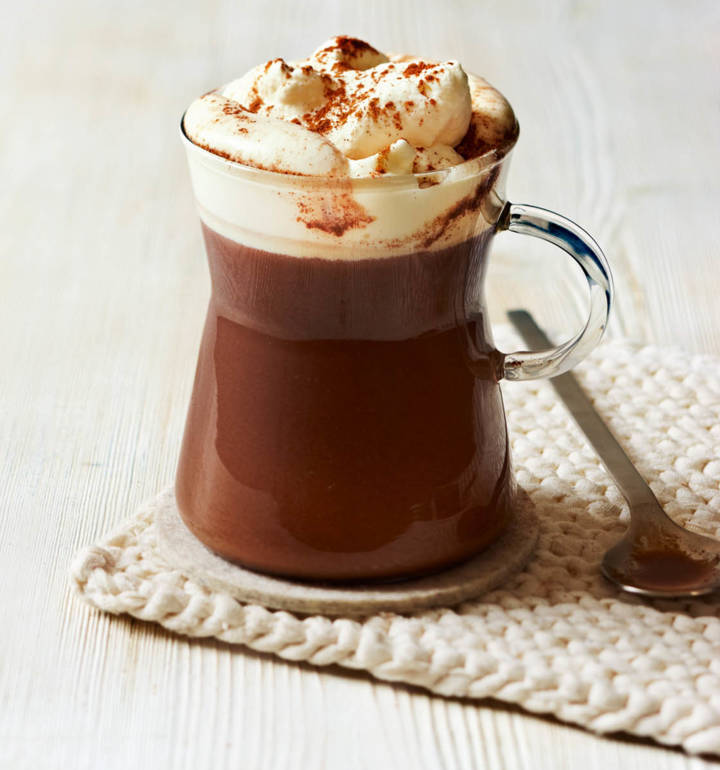 Recipe photograph by Martin Poole
The ultimate hot chocolate
This super-indulgent drink is a real treat on a chilly day. The Aztecs used to add chilli, but hot chocolate as we know it is thought to originate from Spain, where it's often served with sugary dougnuts called churros. Using good-quality chocolate gives depth of flavour, which is enhanced when mixed with unrefined brown sugar
---
Prep time: 10 mins
Total time:
---
See more recipes
---
Nutritional information (per serving)
---


Ingredients
500ml whipping cream
1.6 litres semi-skimmed milk
300g dark chocolate (70% cocoa solids), broken into squares
150g light muscovado sugar
a sprinkle of ground cinnamon
Step by step
Whip 300ml of the cream; chill. Pour 1 litre of the milk into a pan, add the chocolate and the sugar, then heat gently, stirring with a wooden spoon. Pour in the rest of the milk and simmer for 5 minutes, whisking now and again with a balloon whisk to make sure the chocolate has completely melted.


Whisking the hot chocolate and adding the milk in stages, followed by the cream, gives a frothy finish. The combination of chilled whipped cream on top and steamy hot chocolate below is a winner.

Add the remaining cream to the pan and whisk for a couple of minutes until frothy. Pour the hot chocolate into small heatproof glasses or mugs. Top with the chilled whipped cream and sprinkle with ground cinnamon.

Additions and variations

• A pinch of chilli powder

• A split vanilla pod

• A cinnamon stick

• Crushed seeds from split cardamom pods

• A little instant espresso powder for a hot mocha

• Use half milk and half water for a lower-fat drink

• A spoonful of hazelnut chocolate spread

• Use Maya gold chocolate, sprinkle with orange zest

• Use half mint chocolate and half dark chocolate, finish with an After Eight mint

• A dash of Frangelico, top with toasted chopped nuts

• Top with a little grated chocolate or a couple of marshmallows.
Don't miss

---