Strawberry and cream mille-feuilles
---
Prep time: 20 mins, plus chilling
Total time: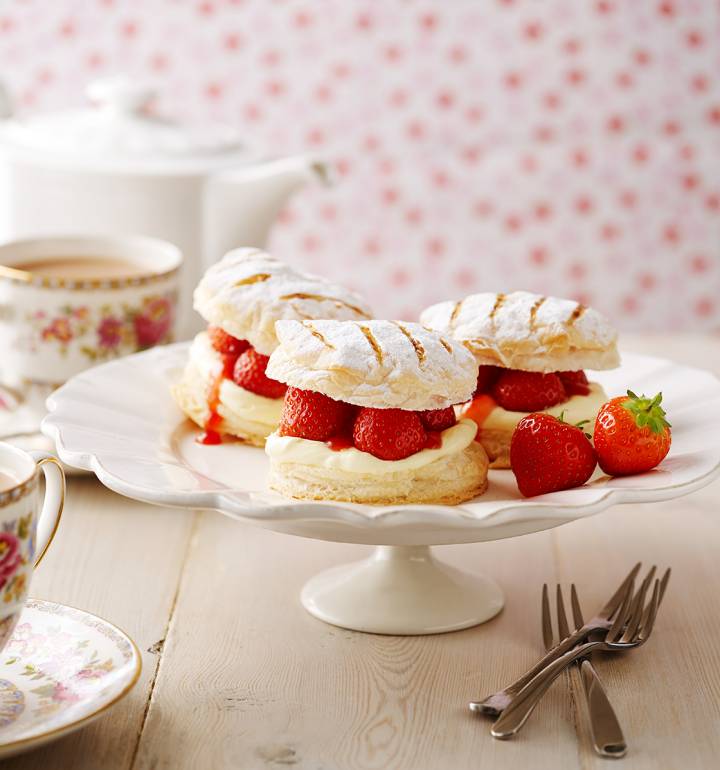 Lauren Mclean
Strawberry and cream mille-feuilles
---
Prep time: 20 mins, plus chilling
Total time:
---
See more recipes
Ingredients
320g pack Anchor ready rolled puff pastry
2 tbsp icing sugar
150ml double cream by Sainsbury's
5 tbsp fresh custard
200g small strawberries, hulled
2 tbsp strawberry conserve
Step by step
Preheat the oven to 220ºC, fan 200ºC, gas 7

.

Unroll the pastry and, using an 8cm round cookie cutter, stamp out 8 circles. Sprinkle a large baking sheet with a little cold water and place the circles on the baking sheet. Chill in the fridge for 15 minutes.


Bake the pastry rounds for 8-10 minutes until puffed up and golden. Remove from the oven and immediately slide a thin palette knife under each pastry to release it from the baking sheet. Leave for 5 minutes then transfer to a wire rack to cool completely.

Split each cold pastry round in half horizontally. Sift a thick layer of icing sugar over the top halves of the pastries. To create a caramelized pattern, hold a thin metal skewer in a gas flame for a few seconds until very hot then quickly lay it over the icing sugar – the sugar will instantly sizzle and caramelize if the skewer is hot enough. Hold the skewer with a tea towel and take care not to touch the hot metal.

Pour the cream into a bowl and whip until holding soft peaks. Fold in the custard. Spoon the custard cream over the pastry bases and top each with 4-5 small strawberries. Drizzle the sieved conserve over the strawberries and gently sit the pastry lids on top. Serve within 2 hours of filling.



Don't miss

---