Sticky toffee pudding with dates
Makes
8
|
Serves
8
|
prep
30
|
total time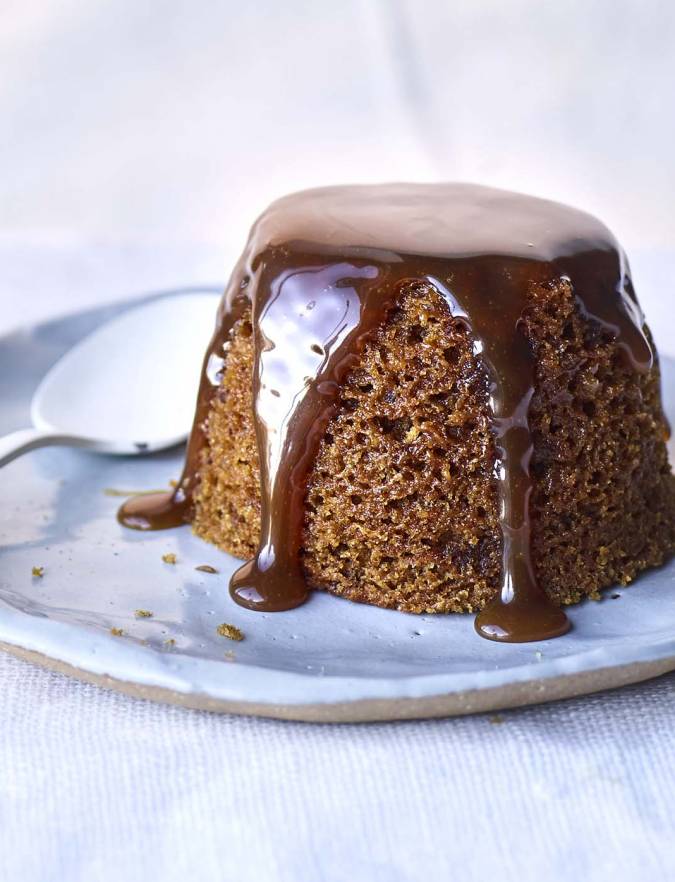 Sticky toffee pudding with dates
Makes
8
|
Serves
8
|
prep
30 |
total time
Ingredients
Sunflower oil, for greasing

175g unsalted butter, softened

100g light brown muscovado sugar

6 Californian organic Medjool dates, pitted and chopped

3 eggs

1 tsp vanilla extract

2 tbsp black treacle

175g self-raising flour

1/2 tsp bicarbonate of soda

1/2 tsp baking powder

1/2 tsp fine sea salt
For the date paste
10 Californian organic Medjool dates, pitted and chopped (you'll need 150g)

Pinch flaky sea salt

squeeze of lemon juice
For the butterscotch sauce
30g unsalted butter

150g light brown muscovado sugar

200ml double cream
To make the date paste, put the dates in a heatproof bowl, pour over 300ml just-boiled water, then set aside for 30 minutes. Transfer the dates and the soaking liquid to a blender, add the salt and lemon juice then blitz until smooth. Reserve 2 tbsp for the butterscotch sauce, and store the remainder in an airtight container in the fridge for up to 1 week.
Preheat the oven to 180°C, fan 160°C, gas 4. Lightly grease 8 x 175ml pudding moulds with the oil and line the bases with baking paper. Transfer to a roasting tin and set aside.
In a bowl, cream the butter and sugar until light and fluffy. Beat in the dates, then beat in the eggs, one at a time, followed by the vanilla extract and treacle. In a separate bowl, combine the flour, bicarbonate of soda, baking powder and salt. Fold the dry mixture into the wet, then divide evenly between the prepared moulds.
Carefully pour just-boiled water from the kettle into the roasting tin, until it reaches halfway up the sides of the moulds. Cover the roasting tin with a large, pleated sheet of kitchen foil, making sure it's tightly sealed to prevent steam escaping. Transfer to the oven and bake for 30 minutes.
To make the butterscotch sauce, put the butter, 2 tbsp of the date paste, the sugar and a pinch of salt in a pan and set over a low heat. Stir until the sugar has dissolved, then stir in the double cream until smooth.
Remove the roasting tin from the oven and discard the foil. Let the puddings cool for a few minutes, then gently loosen them with the tip of a small knife. Turn the puddings out onto plates, removing and discarding the baking paper. Pour over the butterscotch sauce to serve.