Soft meringue with redcurrants and raspberries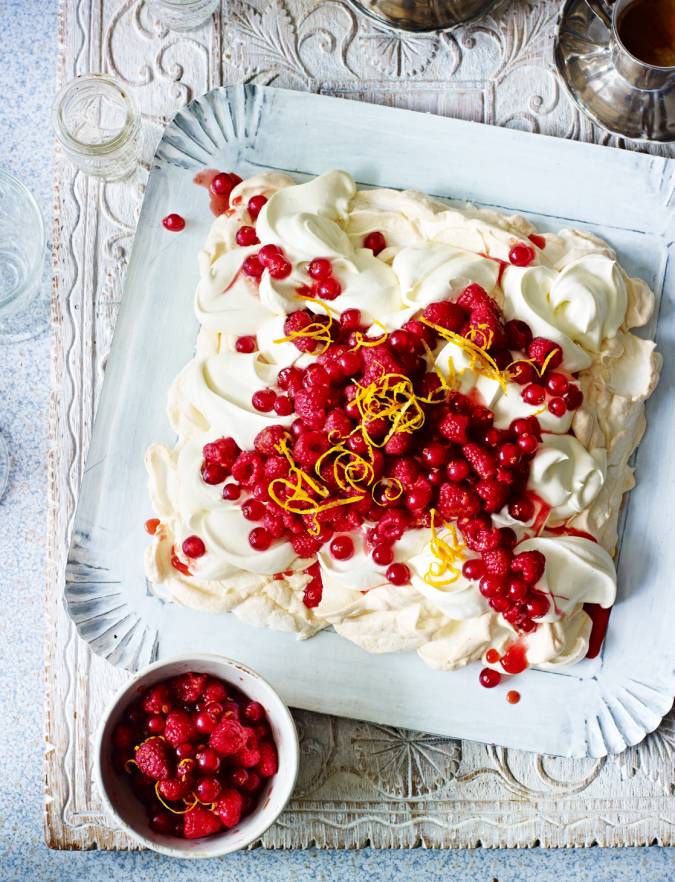 Nutritional information (per serving)
See more
Ingredients
For the meringue
6 medium egg whites

250g caster sugar

11⁄2 tbsp white wine vinegar

11⁄2 tsp cornflour

1 tbsp icing sugar, for dusting
For the fruit topping
2 x 150g punnets redcurrants

40g caster sugar

2 tbsp Cointreau

zest of 1 large orange, coarsely grated

450g raspberries

zest of 1 lemon, removed using a zester
For the cream
300ml double cream

2 tbsp rum

2 tbsp kirsch (optional)
Get ahead
The meringue can be made a few hours ahead and chilled. The redcurrants can be marinated up to 3 hours before needed.
Preheat the oven to 150°C, fan 130°C, gas 2. Line a baking sheet with baking paper. In a large bowl, whisk the egg whites until they form stiff peaks, then gradually whisk in the caster sugar until the mixture is thick and glossy. Using a large metal spoon, fold in the vinegar and cornflour. Spread the mixture evenly onto the lined baking sheet to form a 25cm square. Bake for 30 minutes or until lightly coloured, soft and marshmallow-like.
Leave to rest on the baking sheet for a few minutes. Liberally dust another large sheet of baking paper with the icing sugar. Carefully flip the meringue out onto the sugar-dusted paper. Remove the tin and peel away the base paper then flip the meringue onto its serving plate, so that the baked (coloured) side is uppermost. Leave to cool.
Strip the redcurrants from their stems and place in a bowl with the sugar, the Cointreau and the orange zest. Mix, cover and chill for at least 15 minutes. Shortly before serving, carefully stir in the raspberries.

Tip Don't be tempted to make the coarsely grated orange zest more refined, as it adds little bursts of flavour.

Place the cream, rum and kirsch in a large bowl. Whisk until the cream forms very soft peaks (it will thicken slightly more as it chills). Chill, covered, until needed then, if necessary, lightly whisk to form soft, floppy peaks. Spoon over the meringue and liberally spoon on the fruit so that it spills over the cream and meringue. Decorate with curls of lemon zest and serve immediately.
This squishy meringue is topped with a luscious kirsch-and-rum cream, and Cointreau and orange zest-marinated redcurrants and raspberries. The coarsely grated orange zest adds an exquisite bitterness to this dessert.