Panettone with Campari and mandarin cream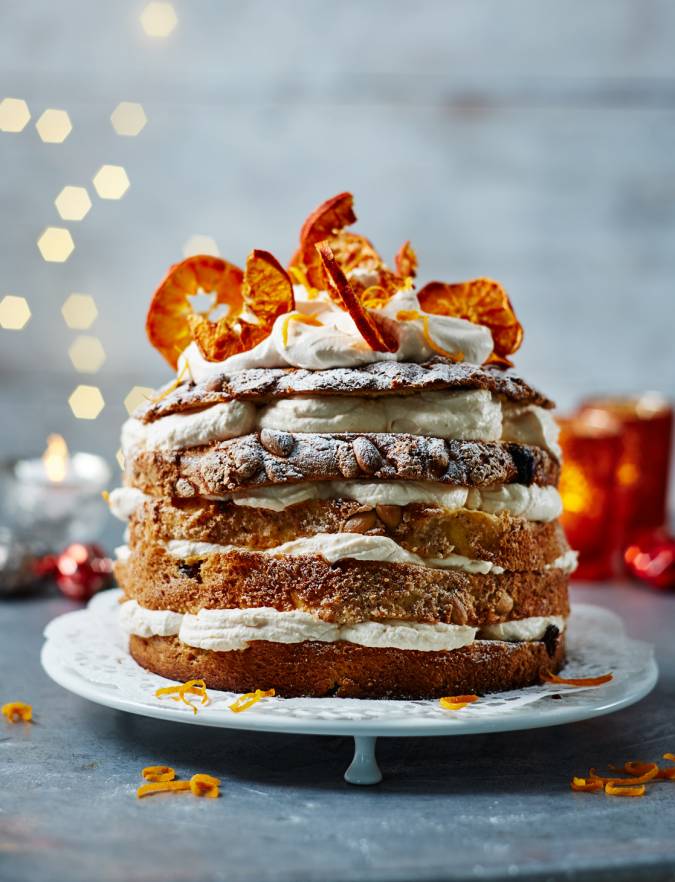 Ingredients
1 x 750g panettone, we used an almond-topped panettone
For the cream
600ml double cream

6 tbsp mascarpone

30g sieved icing sugar, or to taste

3-4 tbsp Campari Aperitif

finely grated zest and juice of 4 mandarins
To decorate with dried mandarin slices
To decorate with frosted cranberries
1 large egg white

Small punnet of cranberries

Around 90g caster sugar
With a balloon whisk, gently whip the cream until it is just holding its shape then add the mascarpone and whip gently.
Add half the icing sugar, the Campari, mandarin zest and 3 tablespoons of the juice. Stir gently to combine, then taste and add the rest of the icing sugar if needed. Add more mandarin juice, 1 tablespoon at a time, to taste. It should have a very soft peak consistency.
Slice the panettone horizontally into 5 layers, depending on how tall it is. If you're using a smaller (shorter) panettone, you may only want 3 or 4 layers.

Tip

DRIED MANDARIN SLICES:
These dried fruit slices make beautiful cake decorations, but they aren't edible, so remove when serving. Any extra slices will make colourful Christmas decorations, simply make a hole in the top and thread with ribbon ready to hang on the tree.

Preheat the oven to 110

°

C/fan90

°

C/Gas ¼. Wash and dry 4 mandarins. With the skin on, horizontally slice the mandarin as thinly as you can. Pat dry with kitchen paper. Lightly oil a rack placed over a baking tray. Arrange the slices on the rack, making sure they do not overlap. Bake for 2 hours, until they have completely dried out, turning the slices over halfway through. Remove from the oven and leave to cool on the rack. Once they have cooled, store in an airtight container.

FROSTED CRANBERRIES:
Lightly beat the egg white then gently brush the cranberries with it. If you don't have a small brush you can simply dip them in, allowing the excess to drip off. Put the caster sugar into a bowl and dip the cranberries in, gently rolling them around to ensure they're as evenly covered as possible. Give them a little shake to get rid of any excess. Place on a tray lined with baking paper. Leave to dry.

Place the bottom layer of panettone onto a serving plate, spoon a fifth of the cream on top and lightly spread to cover, repeat with the remaining layers and cream to reassemble the panettone.
Decorate with dried mandarin slices or frosted cranberries – see below.