Lemon and raspberry prosecco trifle
---
Prep time: 1 hr
Total time: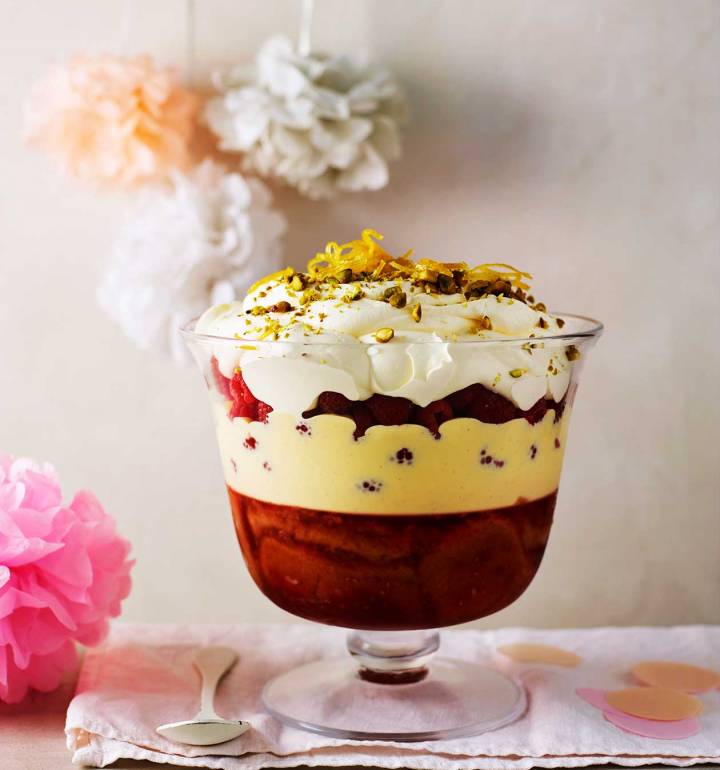 Recipe photograph by Tara Fisher
Lemon and raspberry prosecco trifle
A light, zesty trifle that can be made well ahead, just the thing for your next party
---
Prep time: 1 hr
Total time:
---
See more recipes
---
Nutritional information (per serving)
---


Ingredients
300ml prosecco
1 x 135g pack raspberry jelly
100g sponge fingers
4 tbsp Taste the Difference raspberry conserve
1 x 35g bag roasted pistachio nuts
2 x 150g packs raspberries
edible gold glitter spray, optional, to decorate
For the custard
4 large egg yolks
1 tbsp caster sugar
1 rounded tsp cornflour
100ml whole milk
1 x 300ml pot double cream
1 tsp vanilla bean paste or extract
For the candied zest
pared zest of 1 lemon
35g caster sugar
For the topping
juice of 1 lemon
50ml prosecco
75g caster sugar
1 x 300ml pot whipping cream
Step by step
You can prepare the trifle up to the end of step 5 a day ahead; keep the trifle chilled.
In a pan, bring the 300ml of prosecco to boiling point. Break the jelly into squares in a jug, pour in the hot prosecco and stir to dissolve, then make up to 600ml with cold water.
Spread the sponge fingers on both sides with the raspberry conserve and arrange them in the bottom of a 1.9 litre serving bowl. Pour the jelly on top. Cool, cover and chill to set, around 2-3 hours.
For the custard, whisk together the egg yolks, sugar and cornflour in a jug or bowl. In a medium-sized pan, heat the milk and cream, stirring, until almost at a simmer. Pour onto the egg yolks and whisk to combine. Return the custard to the pan and whisk over a low heat for 5-6 minutes until thickened; the custard should coat the back of a spoon, don't let it boil. Stir in the vanilla. Pour into a bowl, cover the surface with clingfilm and leave to cool.
Pour the custard on top of the jelly and chill for 2 hours to set.
For the candied zest, using a sharp knife, slice the pared zest into thin lengths and put them into a small pan. Cover with boiling water, boil for 30 seconds then drain. Return to the pan with the 35g sugar plus 35ml water. Stir over a low heat until the sugar has dissolved. Simmer very gently for 15-20 minutes, stirring now and then. Transfer the zest to baking paper, separating the strips with 2 forks, and leave to cool.
For the topping, mix the lemon juice, prosecco and sugar in a mixing bowl, then set aside while you shell and chop the pistachios.
Scatter the raspberries over the custard. Pour the cream into the lemon mix, whisk to soft peaks and pile on top of the fruit. Top with the chopped pistachios, candied lemon zest and gold glitter, if you like.
Don't miss

---