Ginger and white chocolate crème brûlées
---
Prep time: 25 mins
Total time: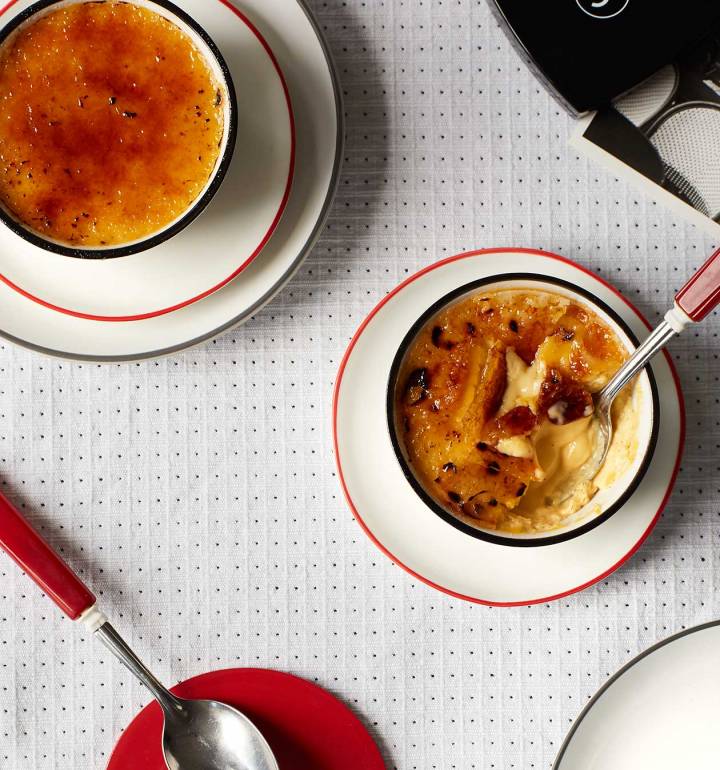 Recipe photograph by Lizzie Mayson
Ginger and white chocolate crème brûlées
A tasty dinner party dessert that can be made in advance
---
Prep time: 25 mins
Total time:
---
See more recipes
---
Nutritional information (per serving)
---
Ingredients
600ml double cream
2 tsp ground ginger
3 tbsp stem ginger syrup
3 stem ginger balls, very finely chopped
150g white chocolate, chopped
1 tbsp vanilla bean paste or extract
6 medium egg yolks
80g caster sugar
Step by step
Bake the custards up to 48 hours in advance, cool, cover and chill in the fridge. If grilling the tops, ensure you leave 30 minutes for the sugar to set and cool before serving.
Place 8 small ramekins into a deep roasting tray or ovenproof dish. Heat the oven to 150°C, fan 130°C, gas 2.
Heat the cream, ground ginger and ginger syrup together in a pan until steaming, but not boiling. Pour over the white chocolate in a heatproof mixing bowl, and add the vanilla. Leave to melt for a few minutes, then stir until smooth.
Put the egg yolks into a large bowl and beat lightly, then pour the hot cream over the beaten yolks, mixing as you do. Pass through a sieve, into a large jug.
Boil a kettle full of water. Divide the finely chopped stem ginger balls between the ramekins, then pour in the white chocolate custard equally. Pull the oven rack out a little and sit the roasting tray on it. Carefully pour the hot water around the ramekins, then close the oven door. Bake for 45-50 minutes, but take a look after 40 minutes as ovens will vary. If the custard has set but still has a good wobble (without looking like liquid below), remove from the water bath to a wire rack and leave to cool completely. Remember, they will keep cooking as they cool.
At least half an hour before serving, turn the grill on to medium-high. Scatter the sugar over each custard, spray with a little water to help the sugar melt, then grill for 4-5 minutes until caramelised on top. Leave to stand for 30 minutes to let the sugar firmly set and cool a little. If you have a blow torch, this is a much simpler way to perfect the tops of the brûlées and you will only need to wait about 15 minutes before eating. The brûlée tops will last 3-4 hours (out of the fridge), so you can finish them before guests arrive.
Don't miss

---