Frozen berry and coconut 'cheesecake'
---
Prep time: 30 mins
Total time: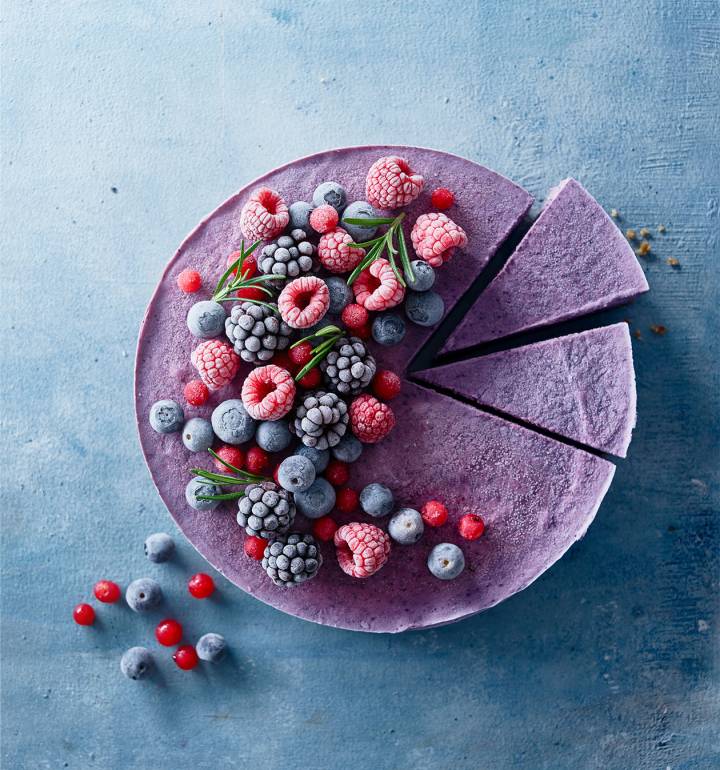 Recipe photograph by Rob Streeter
Frozen berry and coconut 'cheesecake'
A delicious low-fat, vegan dessert - the perfect end to a rich, heavy meal
---
Prep time: 30 mins
Total time:
---
See more recipes
---
Nutritional information (per serving)
---


Ingredients
250g cashews
1 x 400g tin coconut milk
3 tbsp maple syrup
1 tsp vanilla bean paste or vanilla extract
zest of 1 lemon plus 1 tbsp juice
150g raspberries
150g blueberries
For the base
75g blanched almonds
50g desiccated coconut
125g Medjool dates, pitted and roughly chopped
To decorate (optional)
a handful of fresh and/or frozen berries
Step by step
Soak the cashews; chill the coconut milk at least 3 hours ahead. You can freeze the 'cheesecake' for up for 4 weeks.
Soak the cashews in a bowl of cold water for at least 3 hours, or overnight. Meanwhile, put the tin of coconut milk in the fridge to chill.
Grease and line a 20cm-springform tin with flavourless oil (such as sunflower oil). Put all the ingredients for the base in a food processor, then pulse until well combined. Press into the base of the lined tin and chill to firm up.
Add the drained cashews to a food processor, or high-speed blender, and spoon in the thickened top half of the tin of coconut milk (save the thinner coconut water at the bottom for cooking rice), and add the maple syrup, vanilla, lemon zest and juice, and blend for 2-3 minutes until smooth and creamy.
Add the berries, and blend again. Pour the berry cream over the base layer, spreading it out evenly. Cover and freeze for at least 3 hours.
Remove from the freezer 50-60 minutes before serving to soften slightly at room temperature (it will still be semi-frozen). Remove from the tin, top with the berries and herb sprigs, or edible flowers, if you wish.
Don't miss

---