Cheat's Christmas ice-cream bombe
---
Prep time: 15 mins
Total time: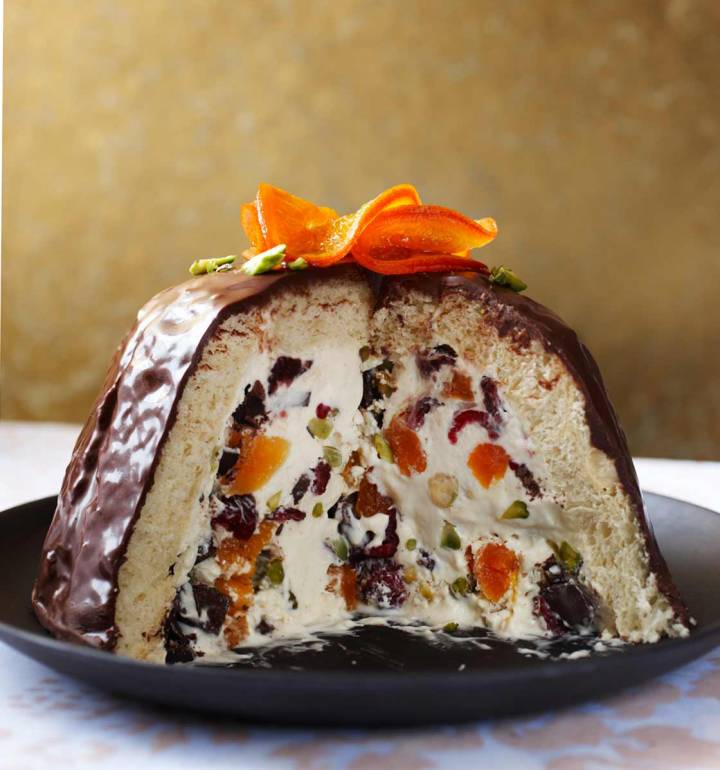 Photographed by Martin Poole
Cheat's Christmas ice-cream bombe
---
Prep time: 15 mins
Total time:
---
See more recipes
---
Nutritional information (per serving)
---


Ingredients
1 x 400g butter brioche loaf
200ml double cream
1 x 500g tub Taste the Difference vanilla custard
1 x 75g pack dried cranberries
50g ready-to-eat dried apricots, chopped
75g pistachios, chopped
75g dark chocolate, chopped
For the chocolate coating and sauce
250g dark chocolate, chopped
300ml double cream
2 tbsp light muscovado sugar
Step by step
Make up to the end of step 2 up to a week ahead
Cut a quarter of the brioche off from the end of the loaf and set aside. Slice off the crusts of the remaining piece and slice the loaf lengthways, then halve the slices so you have brioche strips. Cut about 3cm off the end of each strip, then use the strips to line a bowl. Cut a slice from the reserved chunk of brioche and cut a circle out from this to line the inside middle of the bowl (trimmings make delicious breadcrumbs).
Whip the cream to soft peaks, then fold in the custard, the cranberries, apricots and most of the pistachios (reserve some for decorating). Next, fold in the chocolate and spoon into the brioche-lined bowl. Cover with clingfilm; freeze for at least 3 hours.
For the coating and sauce, put the chocolate in a bowl and heat the cream and sugar in a pan. When simmering, take off the heat, pour over the chocolate and stir to melt.

For an extra-special finish, make candied clementine slices. Heat 100g caster sugar in a pan with 150ml of water until dissolved. Add a sliced clementine and simmer for 35 minutes. Transfer the slices to nonstick baking paper and leave to cool. Use to top the bombe.

Run a knife between the brioche and the bowl to loosen it, then turn the bombe out on to nonstick baking paper on a plate. Spoon over half the chocolate sauce and smooth over the bombe. Freeze for at least 1 hour.
Take the bombe out of the freezer 45 minutes before serving, then transfer to a serving plate and top with the reserved pistachios. Reheat the remaining sauce, slice the bombe and drizzle with the sauce.
Don't miss

---