Blood oranges with spiced syrup
---
Prep time: 15 mins
Total time: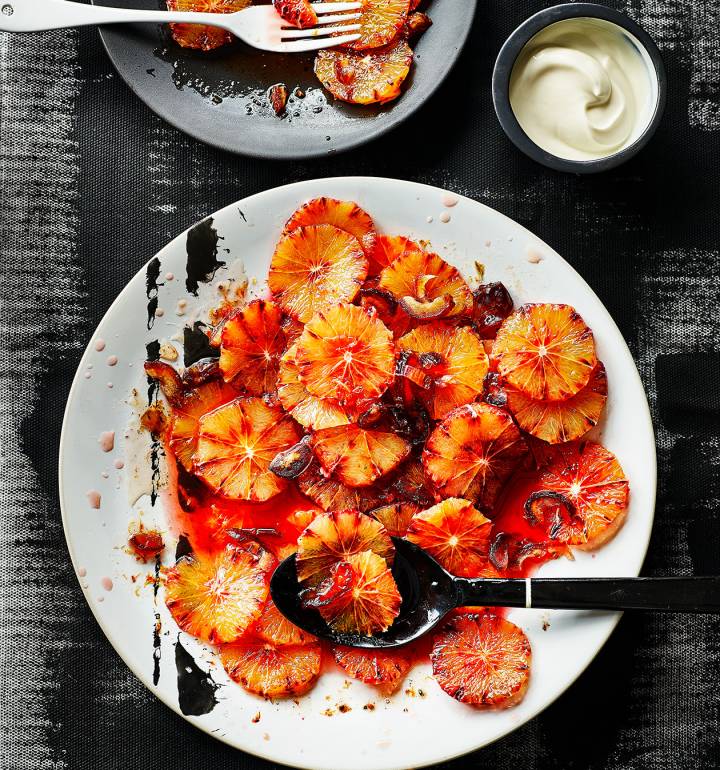 Recipe photograph by Martin Poole
Blood oranges with spiced syrup
With a hint of Middle Eastern flavour, this makes a refreshing end to a meal or a delicious breakfast, served with thick vanilla or honey yogurt
---
Prep time: 15 mins
Total time:
---
See more recipes
---
Nutritional information (per serving)
---


Ingredients
8 blood oranges
2 or 3 Medjool dates
For the syrup
8 cardamom pods
a generous grating of whole nutmeg
zest and juice of 1 blood orange, scrubbed
100g caster sugar
Step by step
Make a day in advance and chill in the fridge.
First make the syrup. Break open the cardamom pods – the point of a small sharp knife works well – and remove the tiny black seeds. Discard the husks and crush the seeds in a pestle and mortar. Put these and all the other syrup ingredients into a small pan with 100ml water.
Heat the syrup gently until the sugar has dissolved completely, stirring now and then, this will take about 5 minutes. Increase the heat and boil the syrup for 5 minutes, then turn off the heat and leave to cool.
Remove a slice from the top and bottom of each blood orange then stand it on its end and remove the skin and peel by slicing downwards, turning the orange as you go. Then, slice the orange into thin rounds, discarding any pips. Arrange the slices on a platter.
Halve and pit the dates, then chop them. Scatter the dates over the oranges and drizzle over the syrup to serve.
Don't miss

---