Bourbon biscuits
---
Prep time: 1 hr 10 mins
Total time: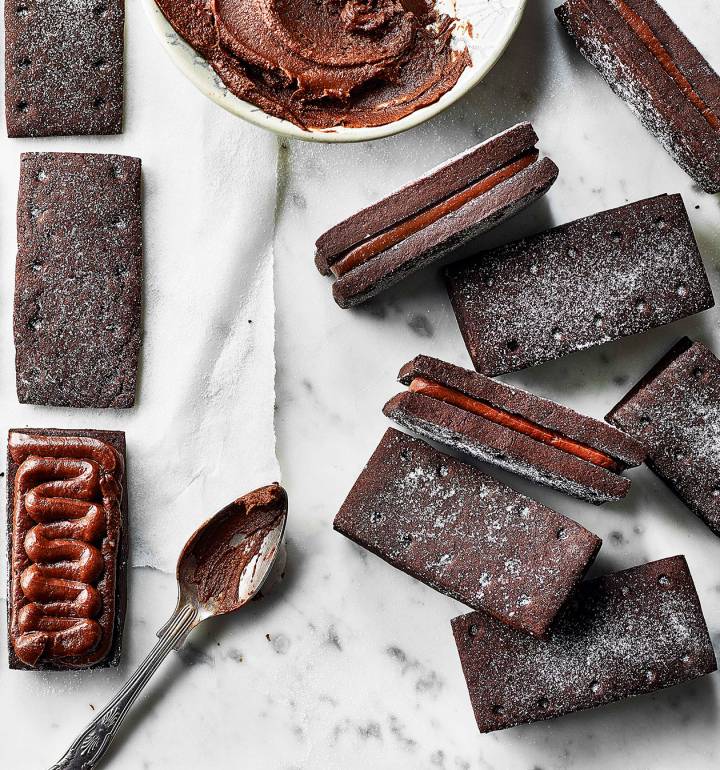 Recipe photograph by Martin Poole
These iconic chocolate sandwich biscuits filled with a dark chocolate butter cream were invented by the Peek Freans biscuit factory in Bermondsey, South London, the first mass-manufacturer of biscuits in Britain. This popular biscuit is ideal for dunking into a cup of tea
---
Prep time: 1 hr 10 mins
Total time:
---
See more recipes
---
Nutritional information (per serving)
---


Ingredients
For the biscuits
200g soft unsalted butter
80g caster sugar, plus extra to scatter (optional)
20g soft dark brown sugar
2 medium eggs, lightly beaten
300g plain flour
100g cocoa powder
1 tsp baking powder
For the filling
50g dark chocolate, chopped
100g soft butter
150g icing sugar
50g soft dark brown sugar
1 tsp milk
20g cocoa powder
Step by step
For the biscuits, cream the butter and sugars together in a large bowl with a wooden spoon until soft and fluffy. Alternatively, use an electric mixer.
Mix in the eggs, then sift in the flour, cocoa and baking powder, and stir to combine until the mixture comes together into a smooth dough (it's easiest to use your hands at the end). If the dough feels a little sticky, add more flour, but try not to add too much or the dough will become tough. Wrap the ball of dough in clingfilm and chill for at least 30 minutes.
Preheat the oven to 180°C, fan 160°C, gas 4. Line 2 large baking trays with baking paper.
Roll the dough out on a lightly floured surface, until you have a rectangle about 60 × 40cm and the thickness of a pound coin. Trim away any rough edges, then use a sharp knife to cut the dough into small rectangles. You can make your bourbons as big or small as you like, but I usually aim to make each one about 7cm long and 3cm wide. You could also use a circular cutter. You should end up with about 50 biscuits.
Transfer the biscuits onto the lined trays, leaving a small gap between each one. Use a fork or a cocktail stick to make little dots along the length of the biscuits, in the classic Bourbon pattern, and pop in the fridge for about 15 minutes to allow the dough to firm up.
Put the trays in the oven and cook for 10-12 minutes, until the biscuits are just firm to the touch and not soft. Scatter over a few teaspoons of caster sugar, if you like, and leave to cool on the trays.
To make the filling, melt the chocolate in a heatproof bowl set over a pan of just-simmering water. Remove the bowl from the pan and leave to cool slightly.
Beat the butter in a large bowl with a wooden spoon until really soft, then gradually sift in the icing and brown sugars, beating until you have a fluffy consistency (add a teaspoon of milk to bring the mix together if necessary). Sift in the cocoa powder, pour in the melted chocolate, and stir to combine.
Sandwich the cooled biscuits together with the chocolate filling. Enjoy with a cup of tea.

Recipe adapted from Made In London by Leah Hyslop (Bloomsbury, £26).
Don't miss

---