Coconut and cacao crispie squares
---
Prep time: 20 mins
Total time: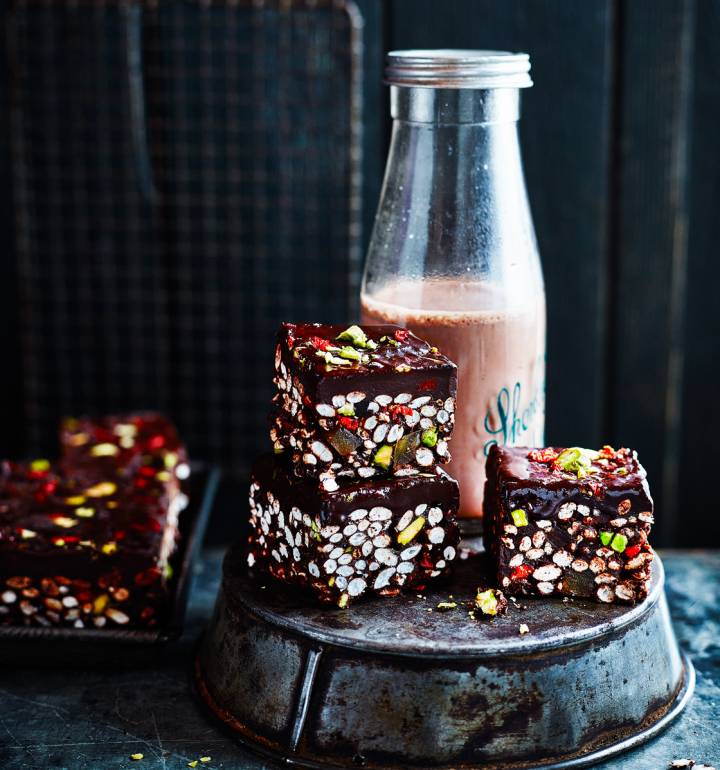 Recipe photograph by Martin Poole
Coconut and cacao crispie squares
---
Prep time: 20 mins
Total time:
---
See more recipes
---
Nutritional information (per serving)
---


Ingredients
50g natural cacao powder
50g coconut oil, melted, plus extra for greasing
3 tbsp Pip & Nut coconut almond butter (alternatively, you can use Meridian coconut and peanut butter)
1 tbsp ground turmeric
2 tbsp maple syrup (or you can use date syrup)
3 balls of stem ginger, very finely chopped, plus 3 tbsp syrup from the jar
100g Rude Health puffed brown rice
50g goji berries or dried cherries, chopped
40g pistachio kernels, roughly chopped
For the top layer
150g coconut oil
80g natural cacao powder
6 tbsp maple syrup
Step by step
The squares keep for about 3 days in an airtight container in the fridge.
In a large bowl, mix together the cacao powder and coconut oil until the mixture is smooth and glossy. Stir in the nut butter, turmeric, maple syrup, diced stem ginger and syrup until completely combined.
Add the puffed brown rice and three quarters each of the goji berries and pistachios. Carefully stir together until the mixture is evenly covered in chocolate.
Tip the crispie mixture into a lightly greased 20cm square nonstick baking tin, and flatten the mixture with the back of a large spoon. Put in the fridge to chill for 1 hour, or until set (or put in the freezer for 20 minutes).
Meanwhile, for the top layer, heat the coconut oil in a small pan until just melted. Stir in the cacao powder and cook, stirring constantly, for 1 minute. Stir in the maple syrup and leave to cool and thicken slightly. Spread over the set crispie mixture in the tin and sprinkle with the rest of the goji berries and pistachios. Return to the fridge until set. Loosen the crispie cake at the edges then cut into 16 squares.
These take inspiration from a childhood favourite – but taste more sophisticated! A mix of coconut oil and cacao powder replaces traditional chocolate
Don't miss

---