Chocolate, sour cherry and pistachio pots
---
Prep time: 15 mins
Total time: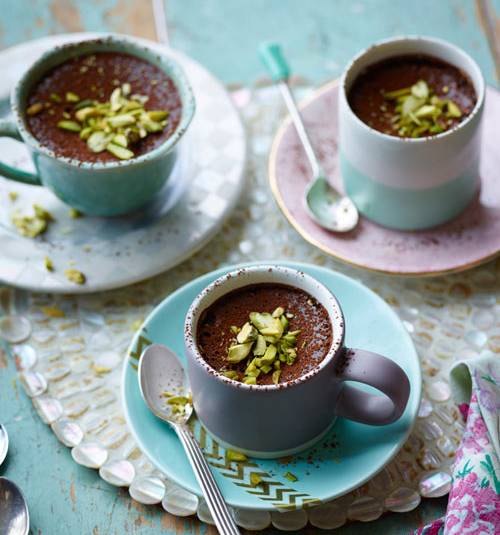 Recipe photograph by Maja Smend
Chocolate, sour cherry and pistachio pots
---
Prep time: 15 mins
Total time:
---
See more recipes
---
Nutritional information (per serving)
---


Ingredients
75g dried cherries
1 tbsp dark rum (or brandy)
40g pistachio kernels
300ml double cream
100g cook's Belgian dark chocolate (60% cocoa), broken into squares
2 large egg yolks
50g golden caster sugar
a dusting of cocoa, to dust
Step by step
Make earlier on the day of eating, cover and leave at room temperature for up to 12 hours. Don't chill the pots, or they become too firmly set.
Preheat the oven to 180°C, fan 160°C, gas 4. Put the cherries into a cup with the rum or brandy, give them a stir; set aside. Scatter the pistachios on a small baking tray; transfer to the oven for 8-10 minutes until they smell nicely toasted; remove, cool and chop roughly. Immediately reduce the oven temperature to 140°C, fan 120°C, gas 1.
Meanwhile, pour the cream into a small pan, add the chocolate and melt over a low heat, stirring every now and then, until all the chocolate has melted and the mix is smooth. Take the pan off the heat.
Whisk the egg yolks and sugar in a bowl until pale with a balloon whisk or an electric whisk, it only takes a few minutes. Next, while gently whisking this mixture, pour in the warm chocolate until amalgamated.
Boil the kettle while you divide the boozy cherries between six 120-130ml ramekins or small ovenproof cups, then pour the chocolate into them. Wipe any dribbles, then transfer the ramekins to a shallow baking tin and add boiling water to come halfway up the sides of the pots. Transfer to the oven to bake for 45 minutes, then cool in the tin, still in the water. They should be served at room temperature.
Top with the roasted pistachios and a light dusting of cocoa.
Don't miss

---